Tyler Bates' Music for Doctor Manhattan & Friends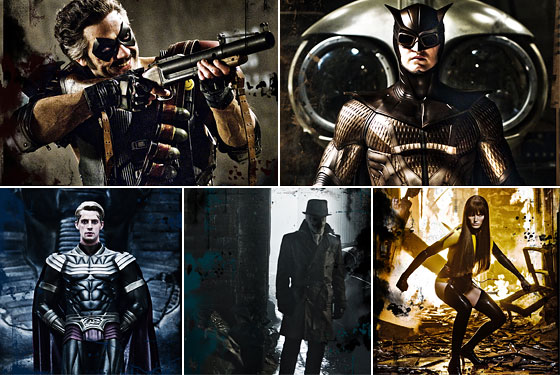 With his pulsating and edgy score for Scott Derrickson's revisualization of the science fiction classic THE DAY THE EARTH STOOD STILL behind him, composer Tyler Bates now reunites with Zach Snyder, his director on both the 2004 DAWN OF THE DEAD remake and the graphically-intense 300 to compose the music for the big screen interpretation of the acclaimed graphic novel, WATCHMEN.
Bates was not familiar with the book when he got the call from Snyder to take on the assignment, so his first task was to procure and read it. And, essentially, absorb it. "I read the graphic novel, The Ultimate Watchmen, after he asked me to do the movie," said Bates. "It was heavy when I picked it up, but it was about twice as heavy when I finished reading it! I realized how much gravity this novel held."
Like THE DAY THE EARTH STOOD STILL, WATCHMEN had a tremendous following of fans who have certain expectations as to how the book will be treated, cinematically. Bates was very conscious of this responsibility when he came into the project to give Snyder's interpretation of WATCHMEN its proper musical dynamic.
"For me to realistically think that I'm going to meet the expectation of the hard-core fans, I just can't imagine," Bates said. "But it comes down to: what is the movie that Zach has made? He's done a great job of really putting that book on the screen, like he did for 300." While familiarizing himself with the Alan Moore-Dave Gibbons novel, Bates ultimately realized his musical approach had to fit Snyder's interpretation of it on the screen.
Bates' initial musical inclination was to represent the characters properly, since so much of the story hangs on Alan Moore's bruised and damaged super heroes. "The characters in WATCHMEN are so lonely," said Bates. "That's not the only bent of the score, but it definitely lives in that human dynamic a little bit more. I don't know that most of these people really care for each other on an emotional level, but they are bound to each other and because of that, and because of the life they pursued, they ended up fairly lonely. They're ostracized somewhat from society. They're defunct for the most part, and they have no friends because they've led a life of secrecy. Although they've thought they'd led a life of importance or philanthropy, they've ended up in a place where it's become somewhat meaningless. I think a lot of us contemplate that, as we get older, so I would say that the majority of the music is steeped in those emotions and not really bound to the traditions of superhero music by any stretch of the imagination."
WATCHMEN is a far cry from other superhero movies like SPIDER-MAN, THE INCREDIBLE HULK, or IRON MAN. Even THE DARK KNIGHT for all its angsty introspection didn't turn the entire notion of the super hero in its head the way WATCHMEN does. "The film is not so much expressing the superhero aspect of the story," Bates noted. "That's just a dimension of their characters. The movie isn't one superhero act after another, nor is it an anti-hero story. We do have a few moments of glory, though, to capture musically."
While supporting the film's active energy, the score also emphasizes the character's psychological nuances and changes. "We get a real back story on four of the characters," Bates said. "The character development is very thorough in the film. And so if we're experiencing some of Rorschach's thoughts, or anything that he's involved in – he sees the world through a lens of complete filth; I don't think anybody is safe from that particular judgment by him – so there is this grimy feeling to the music when it's his scene. Laurie is a little more emotionally fractured and yet there's a glimmer of hope for something good; she hasn't completely written the whole thing off yet. There is something bereft in the music that supports her throughout the film, but there are also moments of wistfulness and humor and joy. It really just depends on the dynamic of the individual. I don't want to talk too specifically about the film because I really don't want to give anything away."
While providing thematic nuances for several of the characters, Bates' WATCHMEN music is not an intensively thematic score. Its tonality is more one of layered feelings corresponding to the characters' interactions as they are portrayed throughout the film. "It's more my approach to try and express or enhance the essence of a character in a film, as opposed to running leitmotifs throughout," he said. "But there is a recurring feeling or theme, as far as the texture and the overall sound in the chords, that fits the feeling that goes with each character, so you're well aware of whose perspective we're in at the time. But it's not like every time Dan's on screen there's the Dan melody and we come back to the same piece of music. This story, basically, is the unfurling of the lives of everyone, the characters involved, and it has a great impact on humanity as well, so to stay in the same place wouldn't make sense. The way the story's told, because there are vignettes where we're getting the backstory on given characters and the experiences in their lives that has shaped their characters. I think that it's very difficult to stay within the recurring themes and make them applicable to the story and allow it to move forward if it does. I will say there is an inherent perversion of pop culture in the music, though, just like history and pop culture are twisted in the film."
In addition to Bates' score, WATCHMEN includes thirteen songs in the movie, as well as a piece of music by Philip Glass. "With fourteen pieces of music already there, I thought maybe it's not so much heavy lifting for me as a composer!" mused Bates. "But there's still about eighty five minutes of my score."
WATCHMEN uses classic rock and pop songs – Janis Joplin, Jimi Hendrix, Nina Simone, Billie Holiday, Leonard Cohen, and others – to reflect and enhance the pop culture of the film's environment. Some of the songs were posts that Bates had to maneuver around, although some entailed a deeper integration with his underscore. "It wasn't necessarily always to be a seamless transition, because sometimes we want that song to really cut, so the job of the score is to make sure that when that song comes in that it's a real cleansing of the palette, or it's a real beat that propels us forward – or backward, depending on what the dynamic needs to be," he said. "That was something I had to think about in advance. There are a couple of scenes where there's a gradual transition from one sequence to the next, and it's almost like…, the picture doesn't become blurred, but the mind-state from one scene transitions to the next and the music does with it, and sometimes in that next scene it might a source cue, and it may require that I don't break the thread of that thought. So I have to transition into it somewhat seamlessly. That was an interesting challenge."
iTunes has released two advance singles from the WATCHMEN soundtrack, one a cover of Bob Dylan's "Desolation Row" by My Chemical Romance, the other a track from Bates' score called "Prison Fight." Both are also available on a 12-inch picture disc LP single.Said Bates, "That's one of the more aggressive scenes in the film. I played that track for Zach when we were on the dub stage and he listened on headphones. I asked him what he thought, and he said, 'Oh, it's awesome!' I asked, 'It wasn't too heavy, was it?' He said, 'Is there such a thing?'"
Snyder welcomed the powerful dynamic that Bates brought to WATCHMEN with his music, investing it with a dramatic weight an intensity that elevates the emotional depth of the film immeasurably. "Zach is able to embrace and express the full range of emotions on the most extreme level and do so with an extreme level of proficiency and elegance at the same time," said Bates. "But there is this weight in the music, throughout, and it depends on the perspective through which the story's being told at any given time."
Bates' past scores, especially 300, have allowed him to integrate orchestra and electronics in a very big way, achieving some provocative musical dynamics. On the WATCHMEN score, Bates decided to stay a little more orchestral, with his electronic devices and synthesizers keeping a much more subdued voice. "There are a number of purely orchestral pieces in the film," he said. "Even my electronic music is not what people think electronic music is, because I don't use plug-in synthesizers or those kinds of things. I do have a lot of synths, but they are modular synthesis and the like, which, to me, is just as organic as the orchestra. There are definitely some big, long orchestral pieces in WATCHMEN that are quite emotional, and they have a tendency to drift from modern day to the 1940s, so there's this kind of a nostalgic and an older feeling in certain sections of the music, which was fun to do. And then there's some really, crazy non-orchestral stuff that's all electronic; some of it is definitely embracing the '80s, especially when a lot of the digital stuff started coming out, so we had some fun with that. I really don't think I've done anything like WATCHMEN, as far as the score's concerned. I'm just really happy about it."
Bates recruited Lisa Papineau, his former bandmate when he was in the alternative pop/rock band Pet, to provide vocal texture to the WATCHMEN score. "She was the vocal colorist on the score, and it was really nice to work with her again," said Bates. "She did a fantastic job and just brought another level of atmosphere and emotion to the music. And I played a bit of guitar on the score as well."
Bates worked closely with orchestrator Tim Williams to realize the final WATCHMEN score which, while unmistakably Tyler Bates' creative progeny, nonetheless took the efforts of a number of helpers. "It's not my desire to run a shop of writers, but when you're working on films that are huge – and they're all huge to me, but when the studio side of it and the production side of it is huge, the schedule can be enormously challenging considering the scope of the work that you have to deliver," said Bates. "It's a lot of work to do 90 minutes of music, and if the picture is changing up to the moment that you need to record your score, and then even after you've recorded and you have to make adjustments to the recorded music so that it's working well with the new picture, you need support. There's no way around that. I would never want anyone to have the perception that I'm a one-man band. I've had my associate Wolfgang Matthes with me over the last eleven years and he's been my partner in the electronic development. We jam on the electronic stuff and he's mixed a lot of the scores with me, and he's been a real brother."
Bates' collaborations with Williams and Matthes is not so much one of collaborative partnership – Bates is definitely the creative force, but the assistance of these musicians has enabled his intentions to be fully realized on the sound stage, which is especially important in a film like WATCHMEN. "What you want to do is to ensure that the best quality music, at the end of the day, is what is in the film," said Bates. "When you have 45 minutes to write a 2-minute cue and get it orchestrated and ready for the stage the next day, you need help. You need people that you know and trust and who understand you long before you get to the point where you actually need it. That's the way to create a cohesive sound. I have a few people who are very close to me who are hugely talented and we have fun working together and really respect each other, and that's what it's about. We try and maintain the enjoyment regardless of how hectic the work becomes, but we're all committed to challenging ourselves and doing the best work we can."
After reuniting with Zach Snyder on WATCHMEN, Bates resumed another collaborative partnership, scoring THE HAUNTED WORLD OF EL SUPERBEASTO for Rob Zombie, for whom Bates scored both THE DEVIL'S REJECTS and HALLOWEEN. Bates is also set to score HALLOWEEN 2 and TYRANNOSAURUS REX for Zombie later this year. Meanwhile, he's returned to the world of WATCHMEN to write the music for TALES OF THE BLACK FREIGHTER, the companion piece to WATCHMEN, which is the comic that is read by a character in the graphic novel. It has been made into an animated short which will be issued on DVD later in March (and will eventually be included in the ULTIMATE WATCHMEN DVD). Bates is also slated to score James Gunn's psychological horror film, THE BELCOO EXPERIMENT, later this year.
Clearly, Tyler Bates is a composer worth watching – and listening to.
Besides the 12-inch picture disc LP single, the actual score and songtrack albums for WATCHMEN will be released on March 3rd from Reprise Records. There will also be a limited edtion run (2,500 units) 7-inch Vinyl Picture Disc collectors sets, featuring seven picture discs (one for each Watchman character) in a slip box. The first 1000 people to order the set at http://watchmenmusic.com/box-set-splash will receive an 11″x17″ Watchmen movie poster autographed by composer Tyler Bates.
For more information on Tyler Bates, see his official web site: www.tylerbates.com.