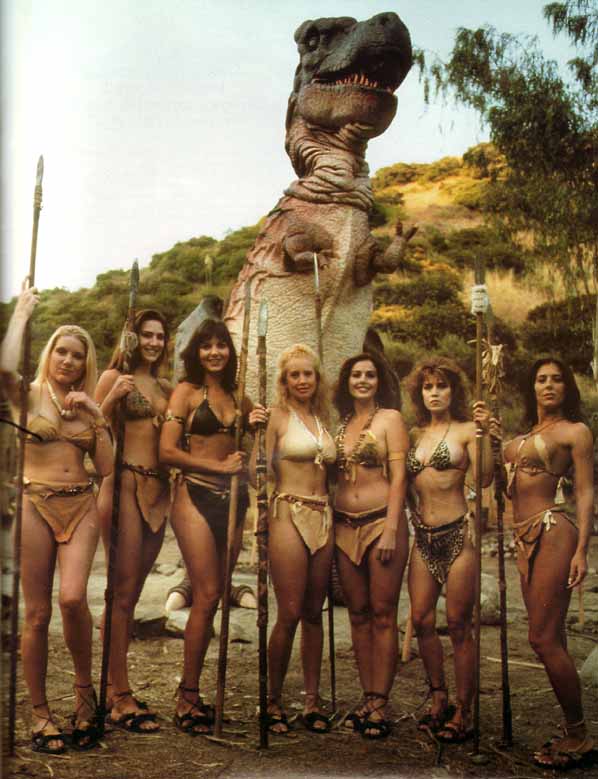 It is no secret that the much of the appeal of prehistoric movies lies in pulchritude. No one really cares what real life was like back in the days before civilization, and only little boys and a few paleontologists care about dinosaurs. No, the reason that (predominantly male) audiences watch these films is for the opportunity to see beautiful women clad in minimal clothing, usually fashioned from furs and/or clam shells. It's a bit of a joke to characterize all men as primitive cro-magnons who would be happy tossing bones onto the cave floor after dinner; perhaps prehistoric movies tap into this atavistic part of the male soul, suggesting that you can be an uncouth, inarticulate, hairy brute – and still cavort with Raquel Welch. In-depth insight or pop culture psycho-babble? We leave you to ponder that question while perusing the following gallery of pre-history's sexiest women.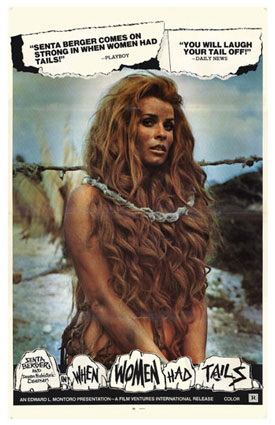 European beauty Senta Berger plays a cave woman who teaches an ignorant cave man about the joys of sex, in the Italian comedy WHEN WOMEN HAD TAILS (1971).
*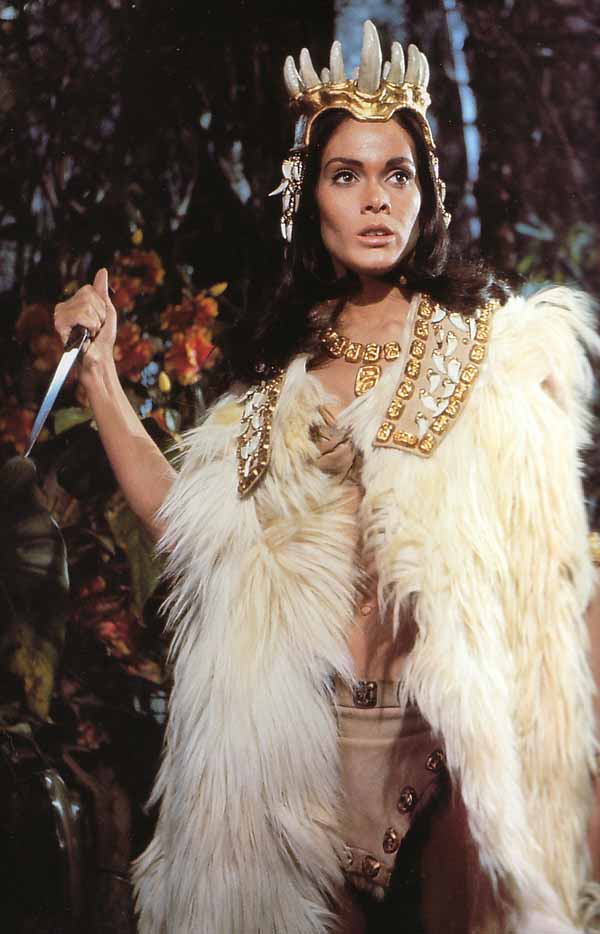 After battling Raquel Welch in ONE MILLION YEARS B.C., Martine Beswicke graduated to playing the Queen of a a lost tribe of Amazonian warriors in PREHISTORIC WOMEN (a.k.a. "Slave Girls," 1967). Of all prehistoric leading ladies, along with glamour and beauty, she captures something a bit more primitive and thrilling, elevating this campy film into something worth seeing.
*
Julie Ege took spear in hand for CREATURES THE WORLD FORGOT, the third of three prehistoric-themed movies produced by England's Hammer films. Unlike its predecessors, CREATURES featured no dinosaurs, only a snake. Still, Ms. Ege makes it worth a look.
*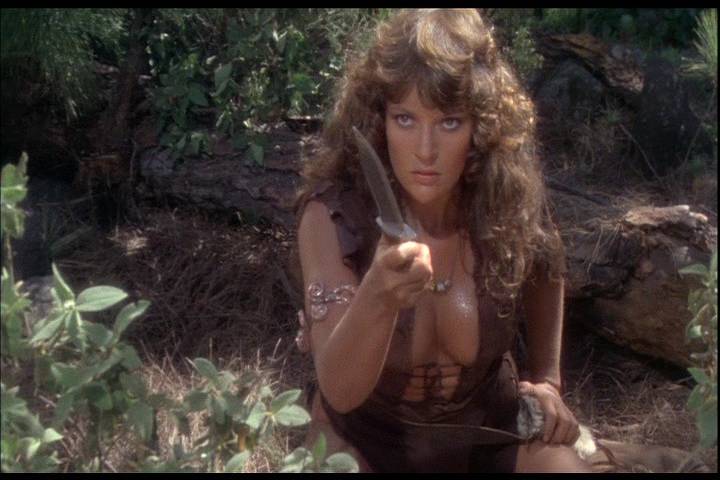 In THE PEOPLE THAT TIME FORGOT, Dana Gillespie is, technically, not a prehistoric woman, since the film is set in the 20th century. Rather, like Beswicke in PREHISTORIC WOMEN, she is playing a primitive character who lives in a lost world that has survived unchanged into modern times. Whatever – she certainly fits the bill when it comes to filling out her fetching cave girl outfit.
*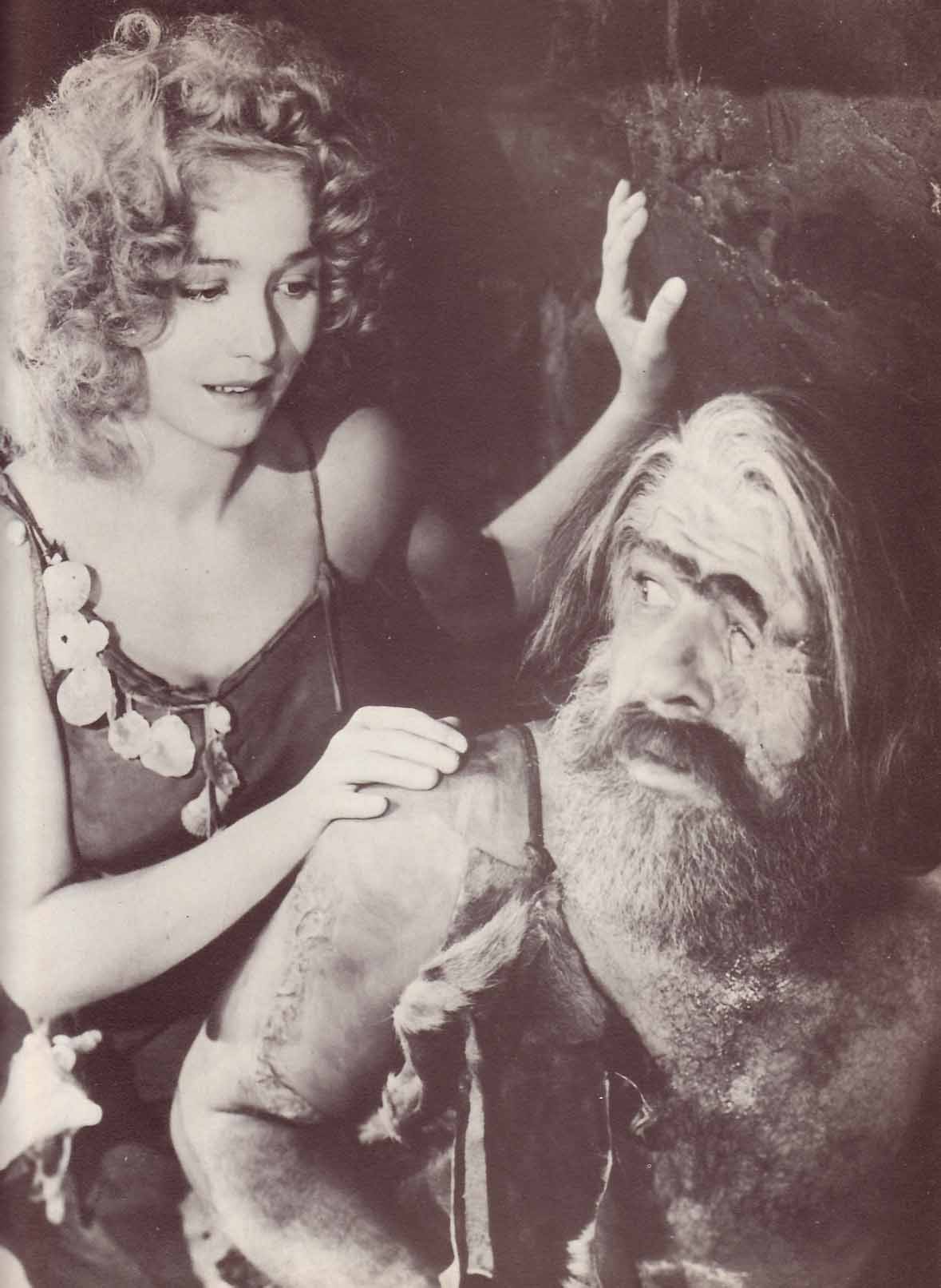 One of the earliest big-screen cave girls was Carol Landis in ONE MILLION B.C. (seen above with Lon Chaney, Jr.). Ms. Landis bared considerably less skin than her successors; nevertheless, she made a fetching example of prehistoric pulchritude.
*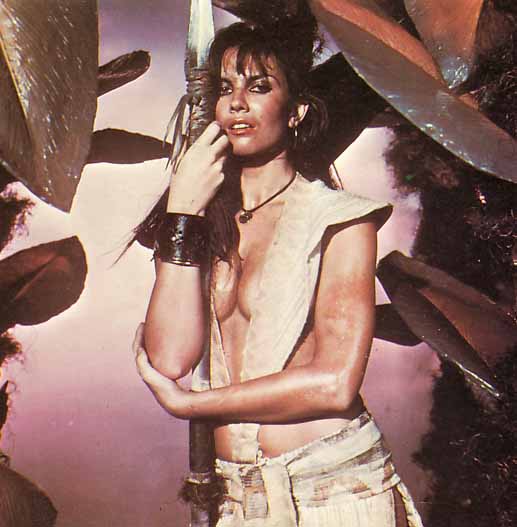 Caroline Munro plays the princess of Pelucidar, the lost world in AT THE EARTH'S CORE (1977). Technically, she is not "prehistoric" in that the story takes place during the Victoria Era, but she comes from a prehistoric-type world, complete with revealing clothing that will make any man sigh in gratitude.
*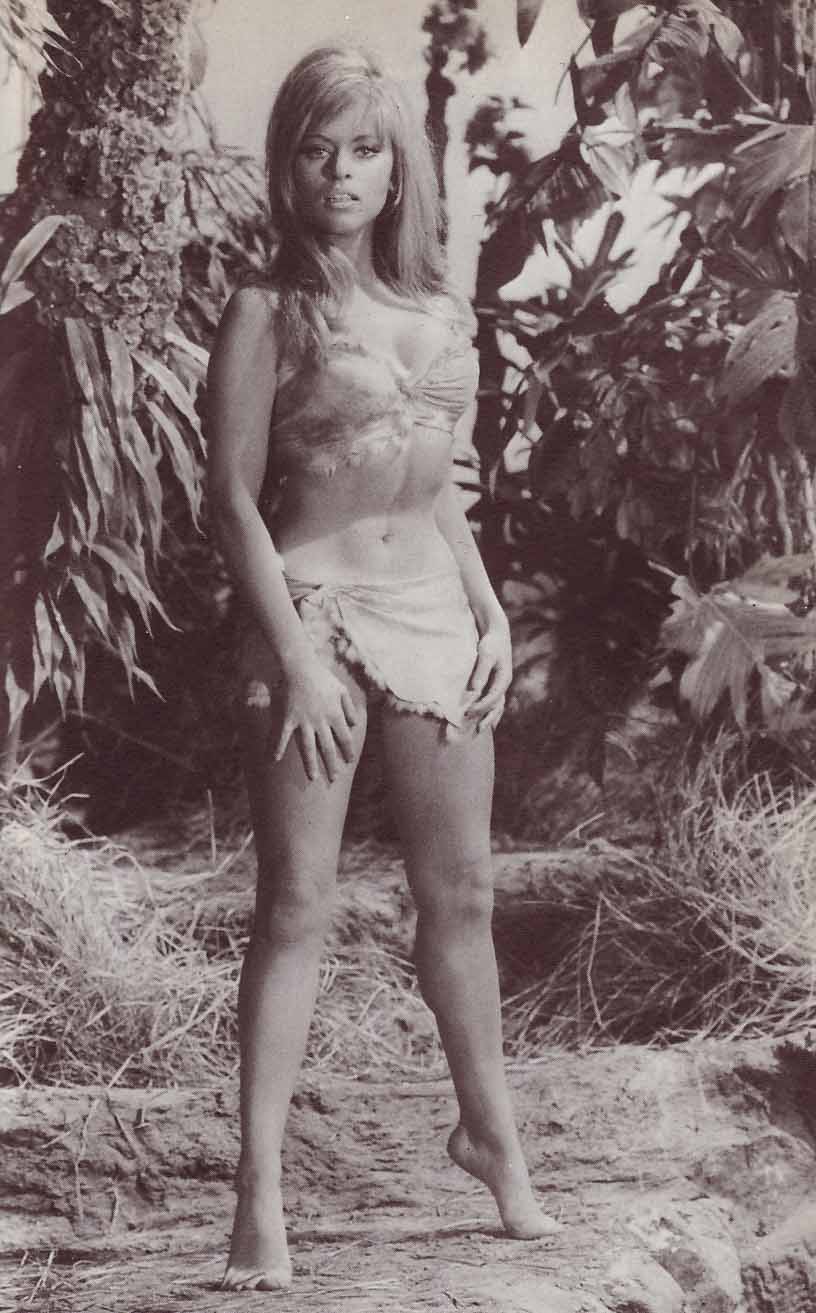 Edina Ronay plays the good, blonde cave girl in PREHISTORIC WOMEN, the polar opposite of the Evil Queen played by Martine Beswicke. Of course, the "Good Girls" are usually less interesting than their seductive rivals, but Ms. Ronay overcomes the handicap thanks to the way she fills out a fur bikini.
*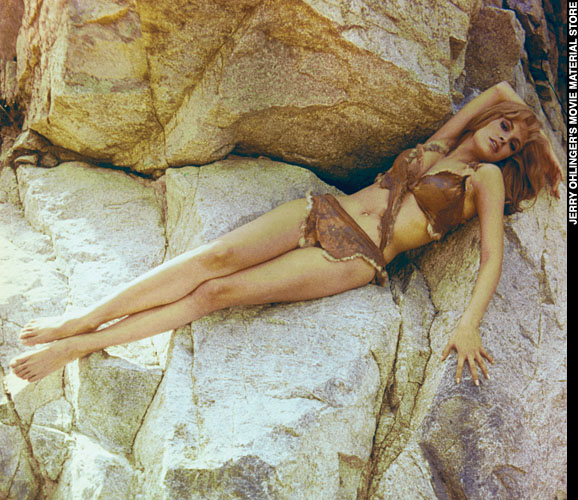 The Queen of all Prehistoric Women has to be Raquel Welch, seen her in the role that made her famous, Loana in ONE MILLION YEARS, B.C., the 1966 remake of the film starring Carol Landis. Ms. Welch's impossibly perfect figure turned her into a sex goddess, serving as a fantasy figure for an entire generation of young boys who went to the film only to see its dinosaurs and came away with the first inkling that there was something far more fascinating that prehistoric reptiles.
*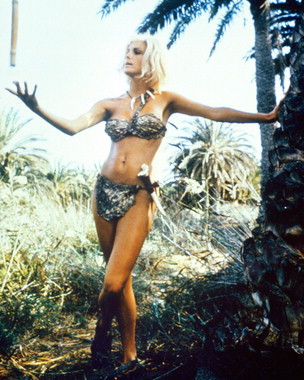 When Hammer Films wanted a follow-up to ONE MILLION YEARS, B.C., they titled it WHEN DINOSAURS RULED THE EARTH (1970) and cast Playboy Playmate of the Year Victoria Vetri in the lead. Although she did not go on to international stardom on par with Raquel Welch, she cut almost as striking a figure in her primitive garb.
RELATED ARTICLE: The History of Prehistoric Movies