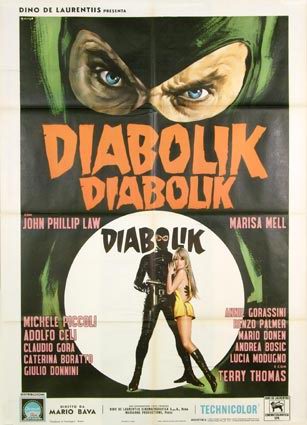 DANGER: DIABOLIK is one of the best films from the late Italian director Mario Bava. Although Bava was best known for his work in the horror genre (traditional Gothic exercises like BLACK SUNDAY, contemporary thrillers like BLOOD AND BLACK LACE ), he also directed many other types of films, including this slightly campy James Bond-style thriller with science fiction overtones. Like Gary Grant in TO CATCH A THIEF, John Phillip Law (THE GOLDEN VOYAGE OF SINBAD) cuts a striking and charismatic figure as the titular character, a master thief who always manages to outwit the law, in the form of Inspector Ginko (Michel Piccoli, who earns our sympathy if only because he tries so hard and fails so often). In the tradition of master criminals from Fantomas to Dr. Phibes, Diabolik uses a variety of high-tech gadgets and low-tech cunning to pull off his heists: in one amusing moment, he takes a Polaroid photograph of a room and props it up in front of the security camera, so that the guards watching the monitor see only the image of the empty room while Diabolik is ransacking the place.
Of course, we're supposed to root for Diabolik because he's good-looking and cool, also because he has a passionate relationship with his girlfriend, Eva Kant (Marisa Mell), and it's clear that the robberies are done not for the money but for the excitement and titillation. (In one of the most memorable sequences, the police wonder what he is doing with all the stolen loot, and the film cuts to Diabolik and his lady love on a huge circular bed, buried in thousands of dollars of cash as they make love.)
Produced by Dino DeLaurentiis, the film is quite lavish by Bava standards, although modest compared to Hollywood productions. Bava was an expert at using available locations and old-fashioned camera tricks (he was a cinematographer before turning to directing) to create impressive-looking settings for his films. The art direction is a 1960s vision of futurism – cool, graceful, and sleek.
Unlike the source material (the comic book is reportedly much more sinister), the overall tone of the film is amusing: it is meant to be a slick adventure, a la James Bond (a fact underlined by the presence of THUNDERBALL's Adolph Celli in the cast), but most of all it is fun – a romp that should not be taken too seriously. Among other absurdities, Diabolik heists a 20-ton block of gold the size of a minibus. (Of course, 20 tons of gold would actually be a much smaller size, due to the metal's great density.)
Law and Mell are great in the leads. In a film like this, there is no depth to the characterizations; the style calls for a broad kind of performance, which both deliver – especially Law, who relies on exaggerated body language when his face is obscured by Diabolik's signature mask. They also have a wonderful on-screen chemistry that makes us like the characters in spite of the criminal ways. This isn't just James Bond-style eroticism; there really is a delirious romanticism at work that makes the movie fly with joy, instead of just sitting there and looking pretty like a gilded artifact from another generation.
It's unfortunate that MYSTERY SCIENCE THEATER 3000, during its final season, missed the joke and tried to use this film as an object of ridicule. The film itself is already slyly nudging its audience to enjoy the over-the-top antics with a smile on their face; there was no need for the MST3K crowd to try to add their own jokes.
The film's ending sees Diabolik at last hoist upon his own petard, but a final fadeout wink to the audience seems to promise a sequel. Alas, none was ever made.
DVD DETAILS
The DVD features an English-language Dolby Digital mono track. Bonus features include an audio commentary from John Phillip Law and Bava-expert Tim Lucas (editor of Video Watchdog); a short documentary; a teaser trailer; a theatrical trailer; and a music video.
The documentary "From Fumetti to Film" consists mostly of an interview with comic book artist Stephen R. Bissette (best known for his work on SWAMP THING), who discusses his admiration for DANGER: DIABOLIK. He denies the "camp" label that some critics applied to the film in the wake of the BATMAN television series and points out that the tone is playful, rather than mocking of the subject matter. He also rightly points out the ways in which director Mario Bava visually translated the feel of the comic book form in a way that worked on screen – to much better effect than was achieved in other comic books adaptations from the era, such as BATMAN or BARBARELLA (the later of which also featured John Phillip Law).
Adam Hauch of the Beastie Boys also shows up to discuss the group's "Body Movin'" music video, which uses extensive clips from DANGER: DIABOLIK. Unlike Bissette, he does think DIABOLIK is "campy," though he is quick to add "not in a bad way."
There are also brief snippets of interviews with producer Dino DeLaurentiis, composer Ennio Morricone, and star John Phillip Law (who describes adding mascara to his eyebrows before meeting with Bava, in order to make himself look like the comic book character). Roman Coppola (son of Francis Ford) shows up to talk about how DIABOLIK influence his film CQ, which is set in the world of Italian film-making back in the 1960s.
Overall, "Fumetti to Film" is a pleasant tribute to and appreciation of DANGER: DIABOLIK, but you won't learn much about the making of the film. Mario Bava has been dead since 1980, but his son Lamberto (who worked as an assistant on the film) is still around. It's too bad there is no input from him, describing the behind-the-scenes story of the making of this little masterpiece. (NOTE: "fumetti" is the Italian term for comic books; the word literally means "puff of smoke.")
The "Body Movin'" video is included as a bonus feature, so that we can see what Adam Yauch was talking about in the "Fumetti" documentary. It's modestly amusing but not nearly as much fun as the group's "Sabotage." Still, there is one worthwhile insight. You can watch the video with or without audio commentary from Yauch, who points out something that neither John Phillip Law nor Tim Lucas note in the commentary for the film itself: the numerous Jaguars (the favored car of Diabolik and his girlfriend Eva) seen in a long-shot in Diabolik's lair. This certainly explains how Diabolik manages to continue driving one of the cars – even after we have seen one dive over a cliff.
The trailers, made for the film's American release by Paramount, are not particularly good: the "teaser" trailer is actually just a shorter version of the "theatrical" trailer; both give away too much, including the ending! It is interesting to note that the narration is read by Telly Savalas, who would later work with Bava in LISA AND THE DEVIL.
As with almost any special edition DVD, the most eagerly anticipated bonus feature is the audio commentary; unfortunately, this one is a slight disappointment. Even with both Law and Lucas offering their insights, the commentary track often runs dry, and we are left simply sitting through the film again. Law tells some interesting stories about working with Bava and with co-star Marisa Mell, and Lucas provides lots of behind-the-scenes information. But even so, the result is often frustrating, raising as many questions as are answered.
For example, we learn that producer Dino DeLaurentiis put up $3-million to make the film, of which Bava used only $400,000. DeLaurentiis was eager to use the leftover money to make a sequel, but Bava declined. He was unhappy with the experience of making an expensive movie, because he did not like the interference from his producer (who wanted to tone down the title character's villainy in the hope of turning him into an international icon that might launch a successful franchise). That certainly explains why Bava never made a sequel, but one is left wondering why DeLaurentiis did not proceed without him. Also, Lucas tells us that there are two English-language dubs of the film, but he barely discusses the differences or even notes that the many of the voice actors assume English accents, as if the story were meant to be set in Britain (despite the fact that Diabolik is stealing dollars, not pounds).
Even so, Bava fans will find much to enjoy here. DANGER: DIABOLIK is worth owning on DVD just for the film itself. The bonus features may not be as wonderful as one might want, but they do add considerable icing to the cake.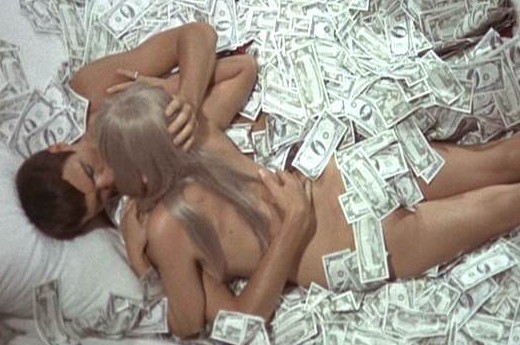 DANGER: DIABOLIK (1968). Directed by Mario Bava. Screenplay by Bava, Adriano Baracco, Brian Degas, Tudor Gates, and Arduino Maiuri, from the comic book character by Angela & Luciana Giussani; based on the comic book by Angela & Luciana Giussani. Cast: John Phillip Law, Marisa Mell, Michel Piccoli, Adolfo Celli, Claudio Gora.