After screenings in Europe, the newly restored version of METROPOLIS (1927), German director Fritz Lang's silent science fiction classic, made its U.S. debut in Hollywood as part of the Turner Classic Movies film festival. Subsequent play dates are scheduled in Los Angeles, San Francisco, Tampa, Detroit, Ann Arbor, New York, and Cleveland (full schedule below).
Touted as the precursor to films like BLADE RUNNER, METROPOLIS is cinema's first example of a science fiction extravaganza, using elaborate miniatures and other special effects to depict a futuristic city engaged in a class conflict between the rich, living in their lofty skyscrapers, and the workers, toiling in machinery rooms down below. Director Lang himself thought the scenario (by his wife, Theo Von Harbou) was somewhat simplistic, yet the film's visual power has retained its reputation as a classic.
METROPOLIS was the subject of a previous restoration, currently available on DVD from Kino Video, but even that version was incomplete. Two years ago, additional lost footage was discovered in South America and restored by the Munich Film Museum. The footage, part of a 16mm duplicate print, amounted to 25 minutes (approximately one-fifth the film's running time), including entire sequences – such as the original ending – not seen since the debut in Berlin in 1927. Perhaps equally important to the missing footage was the fact that the 16mm print provided a reliable guide for editing METROPOLIS back into something resembling its original form.
The restoration took one year, costing approximately $840,000.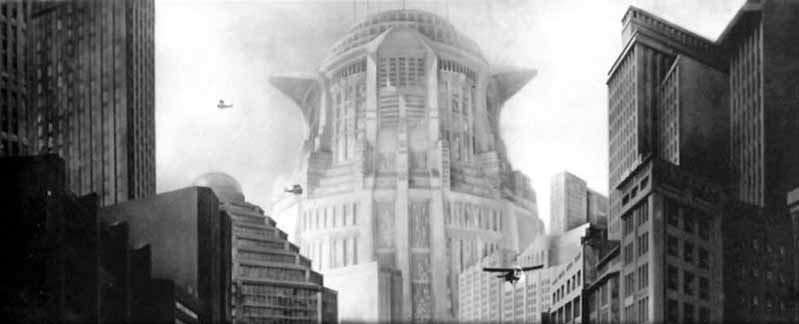 Hopefully, the restoration will iron out some of METROPOLIS's narrative weaknesses. The news of a new ending is particularly interesting, as the conclusion of the film (as it has been seen for decades) is somewhat problematical: basically, the conflict is resolved by a hand-shake between representatives of the two factions, and as Philip Strick said in his book Science Fiction Movies, you wouldn't trust either one of them after the fade out.
In any case, METROPOLIS is one of the most important films in the history of science fiction cinema, and in these days of home video domination, any excuse to get the film back on the big screen is a good one. Theatrical engagements will take place in the following venues:
Film Forum in New York, New York – Opens May 7
Laemmle Royal Theatre in Los Angeles, California – Opens May 14
The Cleveland Museum of Art in Cleveland, Ohio – May 21-23
Ken Cinema in San Diego, California – opens June 4
Music Box Theatre in Chicago, IL – opens June 4
Coolidge Corner Theatre in Brookline, Massachusetts – – opens June 4
Lagoon Cinema in Minneapolis, Minnesota – opens June 4
Oklahoma City Museum of Art in Oklahoma City, Oklahoma – June 11 only
Chez Artiste in Denver, Colorado – opens June 11
Detroit Film Theatre in Detroit, Michigan – June 11-20
Senator Theatre in Baltimore, Maryland – opens June 11
Capitol Theatre in Arlington, Massachusetts – opens June 11
West Newton Cinema in West Newton, Massachusetts – opens June 11
Robinson Film Center in Shreveport Louisiana – June 18-24
Comell Cinema in Ithaca, New York – June 26
George Eastman House in Rochester, New York – June 26-27
Pacific Cinematheque in Vancouver, British Columbia – July 1-6
Zeitgeist Arts Center in New Orleans, Louisiana – July 5-7
Cinema 21 in Portland, Oregon – opens July 9
Avalon Theatre in Washington, D.C. – opens July 9
San Francisco Silent Film Festival in San Francisco, California – July 16
Cleveland Cinematheque in Cleveland, Ohio – July 16-17
Lake Worth Playhouse in Lake Worth, Florida – July 23-29
Mos' Art Theatre in Lake Park, Florida – July 23-29
Tivoli Theatre in St. Louise, Missouri – opens July 23
Ritz at the Bourse in Philadelphai, Pennsylvania – opens July 23
Bijou Cinema Bistro in San Antonio, Texas – July 27 only
Festival Fantasia in Montreal, Quebec – July 28
Tivoli Cinemas in Kansas City, Missouri – opens August 6
Wexner Center for the Arts in Columbus, Ohio – August 6-7
Plaza Classic Film Festival in El Paso, Texas – August 8 only
Living Room Theatres in Portland OR – August 6-12
Castro Theatre in San Francisco, CA – August 13-15
Lake Worth Playhouse in Lake Worth, FL – August 20-26
Tampa Theatre in Tampa, Florida – August 29
Normal Theatre in Normal IL – September 2-5
Museum of Fine Arts in Houston TX – September 2-6
Michigan Theatre in Ann Arbor, Michigan – September 12 & 14
Jacob Burns Film Center in Pleasantville NY – September 17-23
Proctor's Theatre in Schenectady, New York – September 26-27
Milwaukee Film Festival in Milwaukee, Wisconsin – October 1 & 3
Memphis Brooks Museum of Art in Memphis, TN – October 4
Landmark Midtown Art Cinema in Atlanta, GA – October 1-7
University of Nebraska-Lincoln (Ross Media Arts Center in Lincoln NE – October 1-7
Landmark Midtown Art Cinema in Atlanta, GA October 1-7
Dartmouth College (Hopkins Center) in Hanover, NH – October 15
Rockport Music in Rockport, MA – October 17
The State Theatre in State College, PA – October 17
Pacific Film Archive in Berkeley, CA October 19
UC Santa Barbara in Santa Barbara, CA – October 21
SIFF Cinema in Seattle, WA – October 21-28
Ragtag Cinema in Columbia, MO – October 22-28
Ziegfeld Theatre in New York, NY  October 22 through November 4
6 Points Theatre in Jacksonville, FL – October 25-27
Bryn Mawr Film Institute – Bryn Mawr, PA – October 26
Real Art Ways in Hartford, CT – October 30
George Eastman House in Rochester, NY – November 5
The Guild Cinema in Alburquerque, NM – November 6-7
Cornell Cinema in Ithaca, NY –  November 6
The Cleveland Museum of Art in Cleveland, OH – November 6
Roxy Theatre in Potsdam, NY – November 8
Olympia Film Society in Olympia, WA – November 12
The Loft Cine in Tucson, AZ – November 14
Calgary Cinematheque in Calgary, Alberta – November 18
Savannah Collect of Art & Design (Trustees Theatre) in Savannah, GA – January 8
McNay Art Museum in San Antonio, TX – February 24 at 6:30pm
You can check for additional theatrical play dates here.
The restored METROPOLIS was released on DVD and Blu-ray in November 2010.
[serialposts]