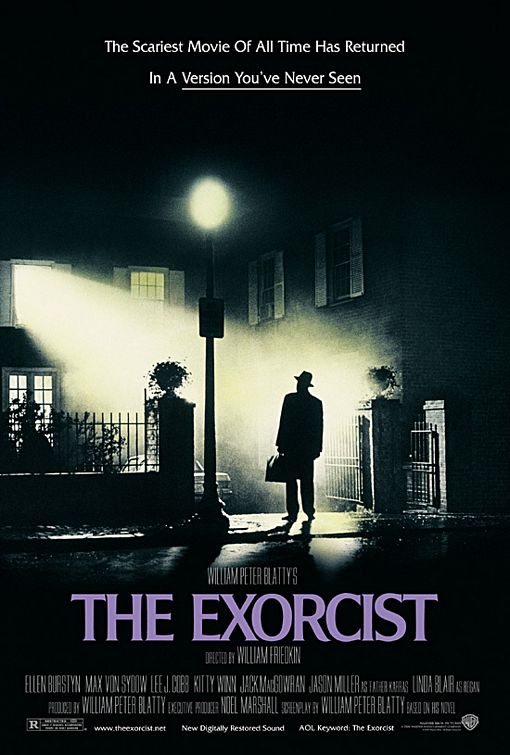 Last month, we ran a list of the American Film Institute's nominees for the best Fantasy and Science-Fiction Films of all time. Many readers were angry over the exclusion of horror from the genres under consideration; some were unhappy about certain titles that made or did not make it onto the A.F.I.'s lists; a few were offended by our caustic comments about the more dubious inclusions.  Well, we all have our favorites. Neither the A.F.I. nor Cinefantastique Online is the sole arbiter of what constitutes the best of the best in movie magic. Therefore, we thought it would be a good idea to present a gallery of expert opinions from people working behind the scenes. What films rank as favorites among industry insiders who made your favorite films? What films frightened or amazed the directors, writers, actors, and authors who make a living in the genres of science-fiction, fantasy, and horror? What films stirred their sense of wonder or made them want to make movies? You'll find a sample of their answers below…
WILLIAM FRIEDKIN (Director of THE EXORCIST)
The horror films that I admire are ROSEMARY'S BABY, ALIEN, DIABOLIQUE, PSYCHO – that's about it. I would say those are horror films, but they totally transcend the genre. They're every bit as good as stories as horror films: the stories are believable; the characters are believable; the situations they're put in, the style of performance, is believable. There's also a Japanese film that I love called Onibaba, another wonderful film of fantasy and imagination, worked very carefully into a fairly realistic story. Whereas in something like Nightmare on Elm Street or Jason, it isn't believable. There's an automatic distance there—between what's on the screen and the audience's perception of real people in real situations.
I like THE BLAIR WITCH PROJECT. I applaud its ingenuity. It was something different, and it was pure to what it was—it did not break the focus. It was a documentary. When people set the camera down, all it showed you was shoes or sometimes nothing. I have to tell you, I sat there with my then fourteen-year-old son, and it scared the hell out of us. That picture scared me. I thought it was really good, because I love documentaries. I love that somebody took the horror genre, and did almost a pure documentary with it. I think Blair Witch is a helluva a film, a good film.
RIDLEY SCOTT (Director of ALIEN)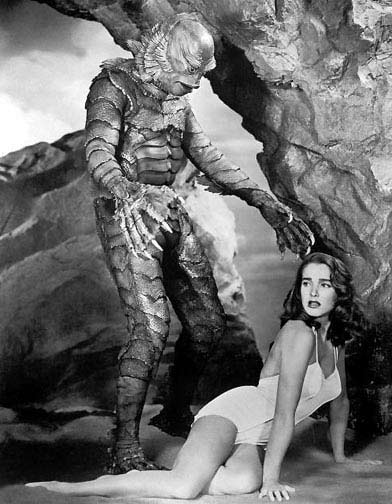 The thing I always worried about doing a monster movie—I was frightened that the monster wouldn't be good, because they very rarely are. Probably the last great monster before that was the little girl in the bed in The Exorcist. But all you had to put on her was the voice—of Mercedes McCambridge—and that one trick was chilling. I decided to see THE CREATURE FROM THE BLACK LAGOON, THEM and IT [THE TERROR FROM BEYOND SPACE]—which actually were good fun at the time, used to scare the living daylights out of me as a kid, and now are kind of collector's items. Funnily enough, as a child, I was always brought up not to see horror movies, because my parents classified them along with sex movies, so I wasn't allowed to see them. I saw this poster in Piccadilly of this guy standing there with the face-mask on and the buzz saw, and I just decided not to see the film—that [The Texas Chainsaw Massacre ] was pretty tough stuff.
DIRECTOR GEORGE A ROMERO (Director of NIGHT OF THE LIVING DEAD and MARTIN)
Martin is my all-time favorite. When you make films, it's hard to decide which among them is your favorite. When and if you make a choice, there are many factors that go into it—the experience, memories of the people working with you. On that film I had my first chance to work with Tom Savini, John Amplas. The crew numbered fifteen, including the cast. We had no money. A handful of people made it possible for me to make the movie. We made it on spit and a prayer. I think it's my most successful effort, in that it comes closer than anything I've done to what I intended when I wrote the script. It turned out almost exactly the way I originally envisioned it.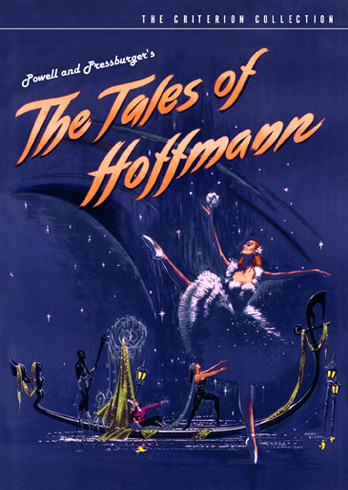 I read my share of Poe. I collected EC Comics, and I'm old enough to have seen FRANKENSTEIN and DRACULA on the big screen—when they were re-released. I'm not that old! I saw THE THING FROM ANOTHER WORLD in its first run, also on the big screen The movie that made me want to make movies is—you'll probably be surprised by this—is The Tales of Hoffman, an adaptation of Orfenbach's opera. It's sung in English, but the words don't matter much; it's the imagery that grabs you, and it never lets go. I was one of the few who saw this particular film when it played in a theatre on a big screen and in color. The film has action and adventure, and it was way serious to an eleven year old. It was released in the same year as The Thing from Another World—big competition—but this film made more of an impression than James Arness ever could. I love some of Dario Argento's early ones, Deep Red and The Bird with the Crystal Plumage. Those were probably my favorites, and Suspiria—it's operatic and beautiful—like The Tales of Hoffman. Repulsion is the most frightening film that I've ever seen. Lapsed Catholics—not practicing Catholics, but those who have strayed—like me—stained our jockeys when we first saw The Exorcist. As far as I'm concerned, that is the only film that dealt with Pure Evil and managed to pull it off.
GUILLERMO DEL TORO (Director of PAN'S LABYRINTH)
My favorites of my own films are PAN'S LABYRINTH, THE DEVIL'S BACKBONE, and HELLBOY.
I started watching horror films without caring much about their origin. We got some Mario Bava films. Of course, we have the Mexican wrestler/masked avengers type of horror film. Then every Sunday there was a local channel that showed all the Universal monster movies: everything from the classics Frankenstein to Bride of Frankenstein and so forth. Then at the matinee, my mother took me to see the Hammer films: DRACULA, HORROR OF FRANKENSTEIN, all of them. So I really got every single thing on the spectrum fed into my brain at this very tender age.
TAKASHI SHIMIZU (Director of THE GRUDGE)
I am influenced by lots of filmmakers and movies, so it's hard to name everything. I like art films like Decalogue and big-budget Hollywood movies like SPIDER-MAN 2, but I fell asleep in SPIDER-MAN. Sorry, Sam! (referring to SPIDER-MAN director Sam Raimi, who produced THE GRUDGE)
SCOTT DERRICKSON (Director of THE EXORCISM OF EMILY ROSE)
In cinema, you have to be crazy [to make an exorcism film] after THE EXORCIST. It's my favorite horror film; I think it's the best horror film ever made. You're not going to make a better movie than that. People who tried to imitate that movie have pretty notoriously failed. It's daunting.
ADAM GREEN (Writer-director of HATCHET, whose festival tag-line was: "It's not a remake; it's not a sequel; and it's not based on a Japanese one.')
In fact I like Japanese horror films, and some of my favorite films are remakes. John Carpenter's THE THING is my Top Five of all time, and I love THE TEXAS CHAINSAW MASSACRE [remake] –  as much as a lot of people would want to kill me for saying that. I wanted to hate that when I saw it, and I really liked it. Even the second time – because I thought, 'Maybe it's just Jessica Biel's boobs,' but it wasn't; it was really that good.
HALLOWEEN to me is still [great] – nothing will ever touch that one. [Slasher films] created villains with great mythologies behind them that were very simple stories that you could easily explain to your friend while you're lying on the floor in sleeping bags at night, having a sleepover. That was the real joy of these films for me. The villains were these anti-superheroes; they were just these total bad-asses. As much as you were afraid of them, you were kind of rooting for them because they were so cool.
WILLIAM MALONE (Director of THE HOUSE ON HAUNTED HILL)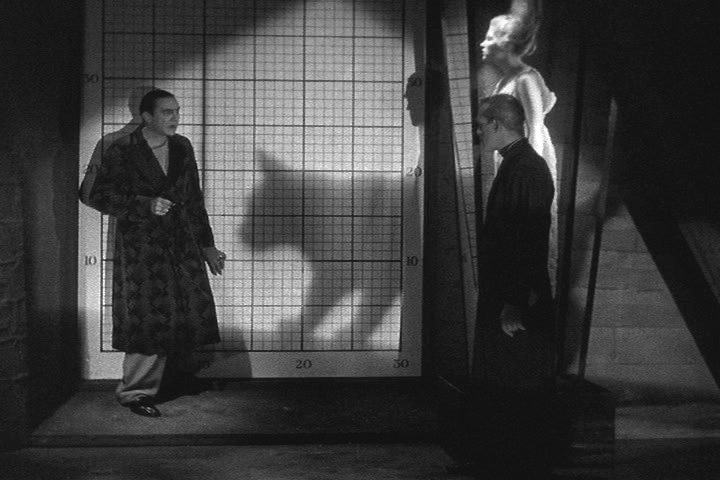 Of recent ilk, one of my favorites was ALIEN, which is just a brilliant movie. I still love CREATURE FROM THE BLACK LAGOON: there's something evocative about it that really works. I love things like THE CABINET OF DR. CALIGARI and FRANKENSTEIN, which is a wonderful picture; the original still really holds up. MAD LOVE is a really cool movie, with Peter Lorre. And some other stuff has been overlooked like PLANET OF THE VAMPIRES, the Mario Bava picture, which I think is a wonderful film. I was heavily influenced by THE BLACK CAT [1934], which is one of my favorite films. I love that movie. When I first met Geoffrey [Rush, whom Malone directed in House], he'd just gone to see THE BLACK CAT, and he talked about how much he loved it. It's got this perversity, this weird, dark undertone. What's great about it is that you can't put your finger on it, except if you actually look at the plot of that movie, you could never do that today. It's too twisted: the fact that Karloff kills Lugosi's wife and then keeps her body preserved in the basement, and then marries her daughter! I'm a big fan of [director Edgar G.] Ulmer's work.
JEAN-PIERRE JEUNET (Director of ALIEN: RESURRECTION and AMALIE)
I love American Beauty, Memento, Happiness. I have two films in my life: A CLOCKWORK ORANGE from Stanley Kubrick and ONCE UPON A TIME IN THE WEST. I saw it when I was a teen, and I couldn't eat or sleep for three days. My parents were, "What? What? Are you sick?" "No no, you can't understand!"
MAZAAKI TEZUKA (Director of GODZILLA: TOKYO S.O.S.)
The first GODZILLA (1954) … [is] a masterpiece, but KING KONG VS. GODZILLA is my favorite.
ROLFE KANEFSKY (Writer-director of NIGHTMARE MAN)
I saw Frankenstein and all the monster movies when I was four years old, but I became a huge horror fan when I was fourteen, when I really started watching horror films and seeing all the conventions and the clichés. All the really good horror films were – except when the studios decided to stay out of it, like THE EXORCSIT – they were not studio films. They were independent films: HALLOWEEN, FRIDAY THE 13TH, A NIGHTMARE ON ELM STREET.
LEONARD WOLF (Author of Dracula: A Connoisseurs Guide)
I am very drawn, curiously enough, to the silent film, NOSFERATU (1922). When Count Orlock comes to—her name is either Nina or Ellen, depending on the subtitles—they exchange looks across the areaway. It is so charged with complex implications. Clearly, he is now going to be in the role of the demon lover, making love to a woman who sends her husband away—it's got elements of French comedy in it. At the same time it's a ghoulish moment, when this guy who's not really living shows up in her bedroom and crouches at the side of her bed. You never know what they're doing, but whatever they're doing is so silent and so horrible and so Christian and so appalling—I've said somewhere in my book that the silence is intensified. We know we're in a silent film, but somehow that scene takes on a terror because it's so utterly still.
SUZY MCKEE CHARNAS (Author of The Vampire Tapestry)
I think that one thing that happens when you are raised as a reader rather than a visual consumer is that when you do go to films, they're really pretty overwhelming. I remember being really impressed by silly things like ABBOTT AND COSTELLO MEET FRANKENSTEIN. It is wonderful, but it shouldn't send you screaming! It did influence me, to put it mildly. For a very long time, the whole vampire thing was very tightly attached to the Hungarian actor whose name we all know. I still kind of balk when people get too far away from a basic sort of dignity. I don't really go for BUFFY THE VAMPIRE SLAYER-type of vampires, and the punk rocker ones really turn me off.
BARBARA STEEL (Star of BLACK SUNDAY, a.k.a. Mask of the Demon)

Black Sunday is the best of the genre films I made—the final result was most perfected in terms of the whole film, but I don't feel it was best for me as an actress. I never saw a completed script for BLACK SUNDAY. We were given the pages day to day. We had hardly any idea of what was ever going down on that film. We had no idea of the end or the beginning, either. I'm sure he [director Mario Bava] had, or maybe he hadn't. He really geared it to play out all his cinematographic-visual fantasies, and I think that one of the strongest points of the movie is the look of it. It's just fortuitous for an actress to find herself in something that well structured.
CHRISTINA RICCI (star of SLEEPY HOLLOW)
I've always loved [Tim Burton's] movies. EDWARD SCISSORHANDS is one of my favorite movies of all time. His movies are so different. His movies are so beautiful and really elegant. They're also told with such an innocence and a goodness. People say his movies are dark, but they're really about Good and Evil, and the Good is always so good and so strong—they're actually really sweet stories.
PATRICK MACNEE (Star of THE HOWLING)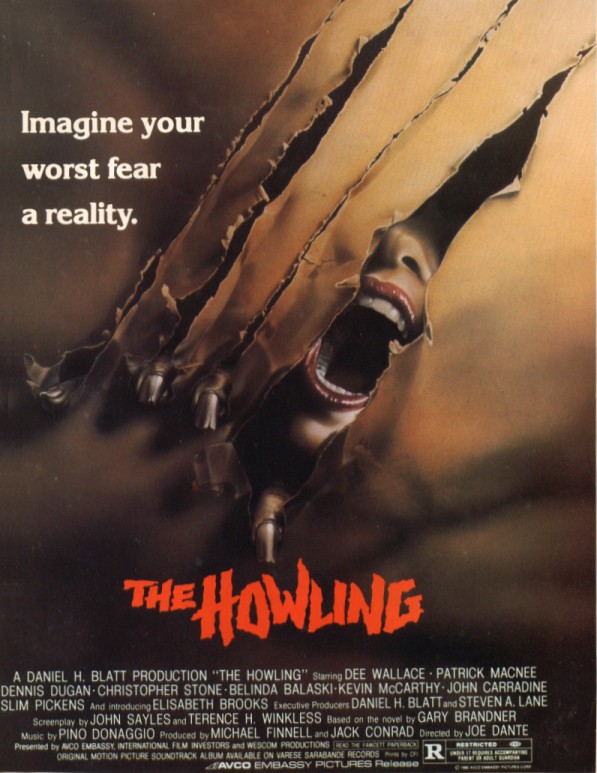 You just can't get a more stunning film. My darling wife and my friends sat there watching it like that [grips the armrest of his chair and forms his mouth into a silent scream to demonstrate]. It's a wonderful, wonderful film. Now all my other films— THE CREATURE WASN'T NICE, LOBSTER MAN FROM MARS —I have been in more movies of that type. I'm not saying we weren't good in them, but they were movies you never see again, hopefully. When Dennis Bartok [of American Cinematheque] said, 'We're going to do a retrospective of your movies,' I said, 'Which one? There's only one worth seeing, and this is it!'
JOE DANTE (Director of THE HOWLING)
There are too many monster movies for me to pick. I spent a misspent youth watching monster movies, and then I spent a misspent adulthood making them. So I would refer you to any list of decent monster movies, and I'm sure my favorites will be on there.