Ray Harryhausen's epic s-f fantasy film, EARTH VS THE FLYING SAUCERS saw him destroy the White House and other sacred American monuments in Washington, D.C. during those long and dreary McCarthy era-years. It has been re-issued and restored in a colorized version on Columbia DVD, just in time to remind us that our own McCarthy era will last another year, until there is a new occupant in the White House.
Ray Harryhausen will be celebrated by the Art Directors Guild at a gala tribute on Feb. 16 at the Beverly Hilton Hotel, where he will receive an honorary outstanding contribution to cinematic Imagery award from the Art directors guild of America.
It's notable that previous Guild recipients of this award have all been directors. They include, Steven Spielberg, Terry Gilliam, Zhang Yimou, Clint Eastwood, Blake Edwards, Robert Wise, Frank Oz, Norman Jewison and John Lasseter.
Ray Harryhausen is the first special effects artist to receive this award, and probably the first recipient to actually have acted as an art director on all of his films, as can be attested by his storyboards, drawings and paintings on view in his book, The Art of Ray Harryhausen.
While in California, Mr. Harryhausen will be making several personal appearances in February. You can find a listing dates and locations, along with part two of my interview with Ray Harryhausen, below the fold.
RAY HARRYHAUSEN APPEARANCES
Friday, February 15, 2008: Hollywood Collectors Show – Burbank Airport Marriott Hotel – Burbank, California.
Ray will be on hand to sign his books, DVD's and art prints. Friday only.
Saturday, February 16, 2008
International Ballroom, Beverly Hilton Hotel
Ray will be in attendance to accept the Art Directors Guild's Cinematic Imagery Award.
Sunday, February 17, 2008: 3 p.m.
Every Picture Tells A Story gallery and book store
Montana Avenue, Santa Monica, California
Ray will be on hand to sign his books, as well as his latest limited edition art print, a fabulous pre-production drawing Ray executed showing Sinbad battling a group of terrifying Bat People, a scene that was originally planned for the The 7th Voyage of Sinbad, but was not used in the final film.
Sunday, February 17, 2008: 5 p.m
American Cinematheque presents at The Aero Theater – Live commentary on Ray Harryhausen's The 7th Voyage of Sinbad
Any Ray Harryhausen fan in Southern California will surely want to attend this event, as it will feature a star-studded cast of Ray's associates giving a live commentary to this screening of The 7th Voyage of Sinbad. Featured effects artists will be Dennis Muren, Randy Cook and Phil Tippett, while actors from Ray's films on hand will include, Kathyn Grant, John Philip Law (from The Golden Voyage of Sinbad), and Joan Taylor (from Earth Vs. The Flying Saucers) along with film historian Arnold Kunert.
Wednesday, February 20, 2008
Rafael Theater -San Rafael, California
Ray ventures north to where Willis O' Brien began his stop motion experiments in San Francisco before Ray was even born in 1920, and where stop-motion animation still flourishes. He will appear for a discussion of his films and career with Matte World principal Craig Barron, Tippett Studios head, Phil Tippett and ILM's dean of special effects, Dennis Muren, along with film historian Arnold Kunert. Ray's books and DVDs will be available for purchase and signing.
Saturday, February 23, 2008: 2 p.m.
Dark Delicacies Book Shop – Burbank, California
Ray will on hand to sell and sign his books, his latest DVDs and various other Harryhausen items.
Monday, February 25, 2008: 7:30 p.m.
Mystery and Imagination Book Shop – Glendale, California
Ray will be here to sign his books, DVD's and other items.
*
RAY HARRHAUSEN INTEVIEW – Part II
[NOTE: Part One of this interview ended with Harryhausen discussing his early working making stop-motion short subjects based on fairy tales.]
LAWRENCE FRENCH: Did you attempt to copy the movement of any famous actor's for the fairy tale characters?
RAY HARRYHAUSEN: Yes, in The Queen of Hearts I tried to give the Queen a Bette Davis walk. When she enters the room for the first scene, if you look at it, it's based on Bette Davis's type of walk. Miss Davis was always a very impressive actress. I put a little bit of Marie Wilson (Satin Met a Lady, Boy Meets Girl, My Friend Irma) into the Queen as well – you may not remember her, but she was known as the dizzy blonde. And the King of Hearts was based on Leo Carrillo (History is Made at Night, Horror Island, The Cisco Kid). For King Midas, I based the genie that comes out of the coin on Conrad Veidt. He was my favorite villain after I saw him in The Thief of Bagdad. And some of Mother Hubbard's gestures came from my aunt, who was Germanic, and whenever she got excited, she'd throw her hands up in the air and shake them, so I reproduced that for Mother Hubbard.
LAWRENCE FRENCH: You used some very nice tracking and dolly shots in the fairy tales that are actually much more prominent than the camera movements you used in your feature films.
RAY HARRYHAUSEN: I had tracking shots in One Million Years, B.C. but I usually tried to avoid pan shots and things like that in the feature films, because it would take too much time. I could do that for the fairy tales, because I was working on my own time. I had a good tracking shot of Little Red Riding Hood when she was walking through the forest and also of the wolf. For that, I built a set about ten feet long right in my garage and I used a simple track. It was just two pieces of two by four with a sled on top of it. For each frame I would slide the camera over a little bit after I animated the character.
LAWRENCE FRENCH: The detail in the fairy tales is amazing. They have lots of animated birds flying through the scenes, as well as some nice layers of mist in the background sets.
RAY HARRYHAUSEN: I used the birds because I felt it helped to enliven the scene. I thought it would be much more effective, rather than just having a static scene with nothing happening. They were also a hangover from King Kong, where the birds were flying in front of Skull Island. And I had also seen Alexander Korda's wonderful movie, The Jungle Book, which had those jungle backgrounds, so I used pieces of glass with little mists of white paint on them, to give an added depth to the backgrounds.
LAWRENCE FRENCH: Was the Guadalcanal short you made while you were in the army ever shown anywhere?
RAY HARRYHAUSEN: No. It was made in my spare time at night to show how you could use stop-motion photography to do a training film. I showed it to Frank Capra, and although he was impressed with it, the army never used it. At the time, I was working with Frank Capra in the Signal Corps and our post was at Western Avenue and Sunset, so I was able to live at home and work on Guadalcanal in my spare time.
LAWRENCE FRENCH: Where did you get the tanks and other models you used for the army vehicles in Guadalcanal?
RAY HARRYHAUSEN: All the tanks and boats I bought at the five and dime store. Except for the steamroller, which I had to build from scratch and the bulldozer, which was made from a model kit. The palm trees I had left over from Evolution. I used one foreground painting, which is obviously a painting, but shooting in 16mm you had a difficult time carrying the focus, because the painting was so close to the camera and in the background was the table where the action took place. To get a depth of field I stopped way down to f16 on the camera lens and took 30 seconds for each frame of film that was exposed. I originally used all canned music for the soundtrack, records of Stravinsky, Max Steiner and Howard Hanson, but we couldn't get the release for that music for the DVD, so John Morgan and Bill Stromberg have composed new music for it.
[Special Note: Stromberg and Morgan have just re-recorded the fabulous Bernard Herrmann score to Harryhausen's Mysterious Island on their new Tribute film scores label. It's a must have soundtrack CD for anyone who loves the combination of Harryhausen and Herrmann.]
LAWRENCE FRENCH: The earliest test on the DVD shows a cave bear fighting a woolly mammoth, made when you were only 16 years old.
RAY HARRYHAUSEN: Yes, I had to learn by trial and error and through experimenting, and I did the cave bear in black and white with a camera I had borrowed from a friend. The animation was very jerky because all the armatures were made of wood. I went to the five and dime store and brought some wooden beads and used them to screw together wooden boards for the arms and legs of the animals, but they would ratchet, so you couldn't get very smooth animation. It was shot in my backyard, in the sunlight, so it looks like time-lapse photography, because you can see the shadows moving across the scene and the wind blowing the canvas in the background. By the time I did the fairy tales I had gotten photofloods to light the sets, which I could turn off while I animated. I had a pedal that I'd step on, and the pedal would turn the lights on and off, so I could animate the shot and then shoot the frame.
LAWRENCE FRENCH: The Evolution test footage shows off your early fascination with dinosaurs to great effect.
RAY HARRYHAUSEN: Well, ever since I was a small boy the dinosaur hall in the museum had been one of the most fascinating things for me. I used to make little dioramas of the La Brea Tar pits in clay, and after I had seen King Kong it was quite startling to me to realize you could make dinosaurs come to life. So I began making Evolution as an experiment in 16mm, after I had become so enraptured by prehistoric creatures. It was shot at silent speed, 16 frames per second, which was much faster than I would have preferred. But my idea was to show the evolution of the world, which was very ambitious for an amateur. But after I saw "The Rite of Spring" segment from Fantasia I abandoned Evolution because it covered the same ground I wanted to cover, and I thought, "How can I compete with Disney?" But all my early tests came in handy afterwards as a demonstration reel.
LAWRENCE FRENCH: After the Evolution test, you didn't work with dinosaurs again until Irwin Allen's The Animal World—and a couple shots in that were very similar to what you did in Evolution—such as the way the allosaurus leaps into the scene.
RAY HARRYHAUSEN: Yes, I used some of the same angles for The Animal World, and we used two cameras to shoot the animation for that picture, but Irwin Allen didn't use the same shot I had used in Evolution—the one where the allosaurus leaps over the camera. Instead, he used a side shot where the allosaurus leaps in from the right side of the frame.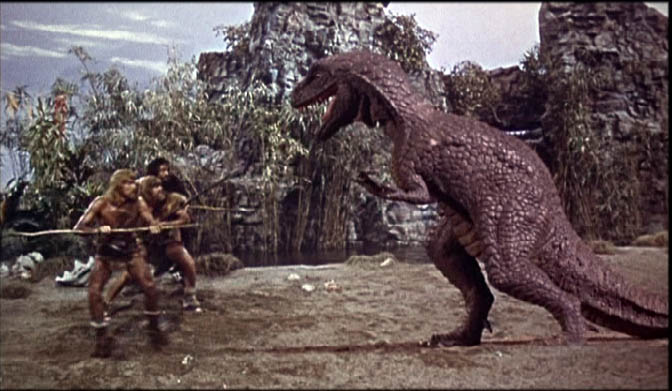 LAWRENCE FRENCH: After doing The Animal World you didn't work with dinosaurs again until you made One Million Years, B. C. for Hammer. Before that, did you ever try to get Charles Schneer interested in making a dinosaur film?
RAY HARRYHAUSEN: No, because we were always doing pictures with very tight budgets. We were able to get a better budget from Hammer for One Millions Years, B.C. That was their 100th anniversary movie and they spent a little more money than they usually did. We went on location to the Canary Islands, shooting mostly on Lanzarote, which had many bleak and desolate landscapes that were made of pure volcanic rock. They lent themselves quite well to re-creating the landscapes of a prehistoric world.
[serialposts]