London After Midnight: Summer Shocks
The month of August means only one thing to me, my Film4 FrightFest event that has taken place over the last holiday weekend for the past eight years. This horror fantasy festival started small as an offshoot of my previous efforts Shock Around The Clock and Fantasm but has now grown into the UK's biggest genre experience. The Odeon West End in the heart of London's Leicester Square is where it all happens – five days of previews, premieres and presentations. Think a genre-focused Cannes on a smaller scale for what our ambitions are. Anyone interested can find the full line-up here www.frightfest.co.uk.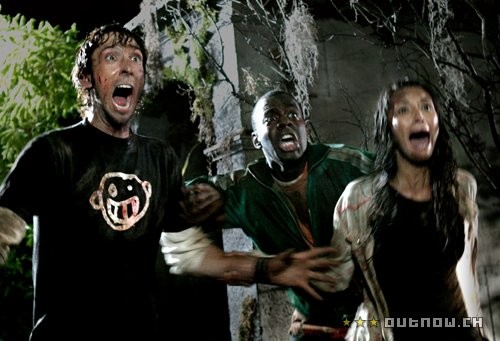 Alan Jones will be recording an audio commentary for the British DVD of HATCHET.
Hghlights include Juan Antonio Bayona's wonderful THE ORPHANAGE, produced by Guillermo del Toro (the subject of my next book by the way, when we finally sit down and talk post his HELLBOY 2 commitments), Jonathan Levine's retro grindhouse dazzler ALL THE BOYS LOVE MANDY LANE, the unusual gore effort STORM WARNING (written by veteran Australian scripter Everett de Roche of PATRICK and ROADGAMES fame) and the quite brilliant WAZ, Stellan Skarsgard and Selma Blair giving amazing performances in Tom Shankland's SE7EN riff.
We also are staging the World Premiere of Uwe Boll's quite extraordinary slasher SEED. Like everyone else up until now I figured Boll a complete hack. But one of the main shocks of SEED is how well directed it is. Plus it contains what must be the torture-porn shock sequence of the year. (I hate that lazy phrase as much as anyone else, but it does fit here). Boll's camera focuses on a female victim tied to a chair for over five minutes while masked maniac Seed hits her repeatedly around the head until nothing but a fleshy mush is left. As for the scenes with the imprisoned baby….SEED is going to cause many to re-evaluate Boll's career and we have invited him over to introduce his film. I'm no boxer though and will stand well clear of any new challenge he may make!
Other Film4 FrightFest attendees promoting their anticipated 2008 releases are Neil Marshall with DOOMSDAY, Simon Hunter with MUTANT CHRONICLES and Paul Andrew Williams with THE COTTAGE. I covered the two latter films while they were in production for Fangoria and both look highly promising. MUTANT CHRONICLES will have been in post-production for two years come it's Summer 2008 opening date mainly because the 23rd century 'steam-punk' setting of this sci-fi adventure thriller, based on Paradox Entertainment's role-playing board game, is being created wholly on green screen using the same Viper Film Stream System David Fincher utilized for ZODIAC. It stores camera data digitally on D mags. The images are then registered at the visual effects houses ready for detailed electronic enhancement. Thomas Jane is the star of Hunter's 'FLASH GORDON meets DELICATESSEN'.
THE COTTAGE looks set to unleash a new iconic horror villain on the scene in the shape of The Farmer. Director Williams made a huge splash last year in Britain with the child prostitution thriller LONDON TO BRIGHTON and is bringing the same cutting edge to his self-penned script about bungling kidnappers entering the domain of a psycho killer. Andy Serkis. Reece Shearsmith, Brit sex bomb Jennifer Ellison and HELLRAISER's Pinhead Doug Bradley (a Williams relative) are the main cast members in this vivid chiller that just missed the Toronto Film Festival Midnight Madness deadline. UK horror production has been at a record high over the past few years and I've also been covering Steven Sheil's MUM AND DAD (THE TEXAS CHAINSAW MASSACRE if directed by Mike Leigh), Anthony (WAXWORK, HELLRAISER III) Hickox's return to the fear fold with the Hitchcock homage KNIFE EDGE and Sean Ellis' THE BROKEN starring Lena (300) Heady haunted by her mirror image. My more high profile set reports have included THE GOLDEN COMPASS, INKHEART and AMUSEMENT. Next on my agenda will be what looks set to be the first title under the newly revived Hammer Horror brand, LESBIAN VAMPIRE KILLERS. Wonder if Ingrid Pitt is angling for a cameo?
A large part of my journalist life is now taken up by moderating DVD extra commentaries. I'm lucky in having done some well-reviewed ones amongst my Dario Argento output, like THE BIRD WITH THE CRYSYAL PLUMAGE. But my absolute favorite has to be the one I did recently with Oscar-winner Helen Mirren on the much-maligned Tinto Brass CALIGULA to be released soon by Image as a deluxe 4 disc boxed set. I've interviewed Mirren many times before before, most recently on INKHEART, and have always found her a delight. My admiration has quadrupled after her almost total recall on everything to do with the Bob Guccione produced Italian epic that became a cause celebre when he inter-cut hardcore porn into the extended running time four years after it was made in 1976.
The version we commented on was the cut overseen by UK broadcaster Mark Kermode that basically removed all the re-shot Penthouse Pet footage hewing it closer to fired Brass' original vision. Mirren didn't want to see any of the more outrageous inserts anyway and, at one point, covered her eyes during the head-severing torture machine scene in the gladiatorial arena. She had some tremendous anecdotes about co-stars Malcolm McDowell, Peter O'Toole and John Gielgud, writer Gore Vidal and Guccione and exploded many of the rumors that have since accumulated over the years.
Quite why Mirren was prepared to revisit such a scandalous time in her early career considering her pole position at the moment became crystal clear. She adores Brass, still keeps in touch with him and her four month salary from the movie meant she could buy her first London house giving her much needed financial security when she needed it most. Mirren really stepped up to the mark on this one making it the most enjoyable commentary experience I've had. 136 minutes is a long time to keep talking about any film but her wall-to-wall revelations made our session pass like lightning. Mirren is one classy lady and one who isn't afraid to tell it like it is either. Look out for this.
In complete contrast I also recently moderated the US DVD commentary of THE BURNING, the first ever Miramax production that set the Weinstein brothers on their rise to Hollywood royalty. Director Tony Maylam was a prickly character and only wanted to talk about this one FRIDAY THE 13TH clone and nothing else about his interesting career. His prerogative of course, but I did try and convince him people would be interested in what he'd been up to for the last 25 years, especially his SPLIT SECOND problems. My argument cut no ice though, so admittedly highly interesting facts about the making of THE BURNING, was the sum total. At least he turned up unlike author Graham Masterton who completely forgot about our scheduled commentary for THE MANITOU. My next one is a live on-stage audience participation commentary for the UK DVD release of Adam Green's HATCHET. I love Green, his new film SPIRAL is one of my current favorites, and I'm looking forward to doing this a lot.
I made sure Green was interviewed for 'The Splat Pack' documentary currently being produced by veteran DVD extra filmmaker Frank Woodward. When I first coined that phrase, in the UK magazine Total Film, I had no idea it would go the distance and enter popular culture. Now I'm seeing it mentioned in production notes for Alexandre Aja's upcoming MIRROR! At least I'm not responsible for the 'torture porn' description. Quite how long The Splat Pack term will be used in the current anti-gore climate is debatable but Eli Roth and Neil Marshall have both told me they like being included. And most people have yet to see the best horror film of the year, Julien Maury and Alexandre Bustillo's INSIDE that spills as much blood as Peter Jackson's DEAD ALIVE in the tale of Beatrice Dalle fetus-stealer. That's the one film to watch for – it closes Toronto – and I can't wait to see it again in October at my annual jaunt to the world's best fantasy festival (apart from my own that is), in Sitges.