A Ground-Breaking Piece of Film-Noir Fantasy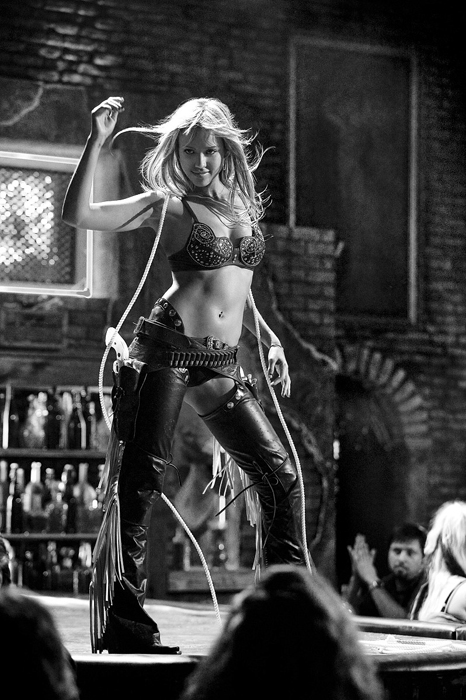 This is a small milestone in the history of cinema: a $45-million film shot, on co-director Robert Rodriguez's sound-stage in Austin, Texas, using actors in front of green screen to combine the cast with CGI backdrops, thus creating an artificial environment that simulates the feel of the Frank Miller graphic novels on which the stories are based.
The result is a hard-boiled, noirish film that revels in a pulp-fiction type storytelling that's crude but powerful — and very effective. It's not a total success: its trio of tales are a bit too similar to each other — variations on a theme, without quite enough variation — but that's not enough to prevent the film from being a hypnotic exercise in style that succeeds on its own unique terms. Filmed mostly in black-and-white (with specific objects shown in color), the film creates a distinctively memorable look that conveys the essence of comic book art better than anything previously seen in films like CREEPSHOW or DICK TRACY.
There has probably been too much written about the film's graphic novel origins and about how special effects were used to translate that look onto film. To some extent this is the fault of Rodriguez, who emphasized his faithful approach to the material in interviews given before the films release, going so far as to tell the Los Angeles Times: "I didn't want to take SIN CITY and make it into a movie. I didn't want to adapt it or squeeze it down. I wanted to take cinema and make it a moving graphic novel…. [Miller's] book was bolder and more visionary than anything anyone was trying to do in cinema. I said, 'We could reinvent cinema just by re-shooting what you did page for page.'"
There have even been too many comparisons to the previous year's lamentable SKY CAPTAIN AND THE WORLD OF TOMORROW, because both movies were shot on high-definition digital cameras and used CGI to create background settings. This kind of commentary misses the real triumph of SIN CITY, which is that it creates a valid cinematic style (whatever its source and inspiration) that works on film because it tells the violent and often wildly incredible stories in a way that makes the tough-guy clichés, hard-boiled voice-overs, blond bombshells, excessive shoot-outs, and enormous bloodletting seem entirely appropriate, even if you don't have a particular taste for graphic violence on screen.
And unlike SKY CAPTAIN, which felt embalmed, SIN CITY zips along with amazing vitality. How the backgrounds were created is immaterial to our appreciation of the finished product, because the film does not feel computer generated. The special effects are only "special" in the sense that they used different techniques (besides building real sets); in terms of the film, they're integrated like any other shot, just part and parcel of a clear cinematic vision.
In his famous essay, "The Simple Art of Murder," Raymond Chandler wrote, "Down these mean streets a man must go." SIN CITY presents an old-fashioned fantasy world, like Chandler's, where the seedy and sometimes ugly appearance of the protagonist hides the fact that beneath the cynical sneer lurks the soul of a white knight who will risk and sacrifice everything; however, the streets of Basin City (the town's official name) are meaner than anything Chandler ever described. Considering the gore quotient, a more apt comparison would be to the violent mystery-thrillers penned by Mickey Spillane. SIN CITY is a den of corruption, where the powerful protect the wicked, and where lone men are forced to dispense a grim and ugly version of justice on their own, because the official rule of law is no more than a charade, and the only way to fight the bad guys is to "play it their way, only worse (to paraphrase Spillane's private eye, Mike Hammer).
This sense of doing the right thing, in spite of incredible odds, lends SIN CITY a solid foundation lacking in most films directed by Robert Rodriguez (e.g., ONCE UPON A TIME IN MEXICO). So it's nice to see that co-director Frank Miller's source material helped Rodriguez (always an entertaining stylist) put his visual firepower in the service of something that is more than just empty flash. You wouldn't want to call SIN CITY sophisticated, exactly, but like all good popular entertainment it knows how to manipulate the lowest-common-denominator elements to good effect. The film may not have the intricacy of a string quartet, but it rocks like a supercharged three-chord head-banger anthem that doesn't need subtle harmonies and modulations to make its point.
The tone may be too hard-edged and brutal for some, and the familiar clichés may not appeal to everyone. However, like many great science-fiction and fantasy films (ranging from METROPOLIS to BLADE RUNNER), Frank Miller's SIN CITY immerses the viewer in a strange, new world. Open-minded viewers, looking for something brilliant and amazing, should enjoy the trip.
TRIVIA
After his previous experience with Hollywood, in particular working on the scripts ROBOTCOP 2 and 3, Frank Miller was not interested in having his work filmed. To convince Miller that a satisfactory film version of SIN CITY could be made, Rodriguez invited Miller to help film a test scene (based on Miller's "The Customer Is Always Right" from "The Babe Wore Red"), which became the film's opening sequence (with Josh Hartnett as a hit man who bumps off a blond in a red dress). Rodriguez paid for the shoot, cut and scored the footage, which got the go-ahead from Miller to make the feature. Rodriguez then invited Miller to co-direct the film, in order to make sure that the result would accurately reflect his vision. The Directors Guild of America frowns on co-directing credits, so Rodriguez resigned his membership. This decision was not without consequences. Not being a guild member, Rodriguez can direct only independent films; major Hollywood studios only hire DGA members.
Quentin Tarantino "guest directed" one scene, in which Clive Owen and Benecio Del Toro have a macabre conversation in a car (SPOILER: Del Toro's character is dead, so the conversation must be taking place only in the other character's mind). Tarantino's directing fee was $1, his way of paying Rodriquez back for scoring Tarantino's KILL BILL VOL 2 for only $1.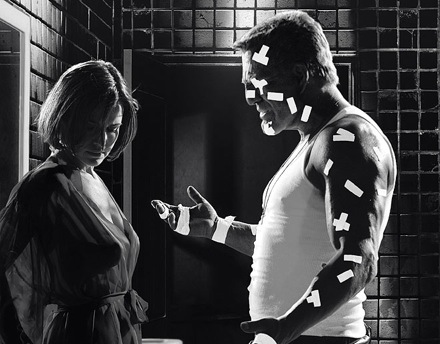 There is no screenplay credit because Rodriguez simply transcribed three graphic novels from the SIN CITY series. The three stories are "The Hard Goodbye" (in which Marv, played by Mickey Rourke, tracks down the killers of a prostitute); "The Big Fat Kill" (with Clive Owen as Dwight, helping get some prostitute out of trouble when the kill a corrupt cop); and "That Yellow Bastard" (the story of John Hartigan, played by Bruce Willis in the movie, who sacrifices himself to save a girl from a serial pedophile-murderer). Rather like the first STAR WARS film, the first graphic novel (the story about Marv avenging the death of Goldie) was simply titled SIN CITY when it was originally published, as a stand-alone effort; only later, when Miller turned SIN CITY into a series, did he retroactively title the first one "The Hard Goodbye."
DVD DETAILS
The original DVD for SIN CITY was a bare-bones presentation with only one bonus feature on the disc; there was not even a trailer. The DVD's menu mixes images of the film with comic book-style drawings, and the Chapter Search function is amusing. It's laid out to look like panels of a comic book (or graphic novel, if you prefer), and the scene selector icon is a splash of red (i.e., blood) whose spray pattern changes slightly as it switches from one scene to the next.
The behind-the-scenes featurette is fun but short — under nine minutes. It's basically a promotional piece shot before the film was finished (the actors comment on how much they are looking forward to seeng the final product). We get some interesting glimpses of the actors working on the green scene set (the preferred color that allows the special effects experts to add in their computer-generated sets in post-production), and several of the actors related sound bytes about their characters and how they got involved in the film. Robert Rodriguez, Frank Miller, and Quentin Tarantino all speak about the film, but their respetive contributions are not clarified (it's not even explained that Tarantino directed only one scene).
Ultimately, it is an interesting glimpse behind-the-scenes, but it left one anticipating future "special edition" DVD that would  provide athe in-depth low-down on how the film was made. This eventually arrived, first in the form of a double-disc special edition and eventually on Blu-ray (reviewed here).
Frank Miller's SIN CITY(2005). Directors: Robert Rodriguez & Frank Miller. Special Guest Director: Quentin Tarantino. Based on the graphic novels by Frank Miller. Cast: Bruce Willis, Mickey Rourke, Clive Owen, Rosario Dawson, Jessica Alba, Jamie King, Benicio Del Toro, Powers Booth, Rutger Hauer, Elijah Wood.
Copyright 2005 Steve Biodrowski