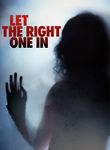 Last month, we mentioned the problem with the home video release of LET THE RIGHT ONE IN, which substituted some dumbed down subtitles on the DVD instead of the more accurate subtitling of the theatrical prints. A yew days ago, I happened to notice that the film was available on Netflix Instant Viewing, so I checked it out to see which version of the subtitles are on display; thankfully, it was the theatrical version. Presumably, this holds true for cable and satellite television.
The quality of the subtitles may seem a minor point (and I do know people who have seen the DVD and thought the film was great, not realizing they were seeing an inferior version), but it puts people like me in an awkward position: on the one hand we want to champion the film to as many people as possible; on the other, we're reluctant to recommend renting or purchasing a DVD that has an obvious flaw.
The subtitling is supposed to be corrected on future printings of the DVD (the packaging will clearly tell you that you are getting the theatrical subtitles), but until then it is nice to be able to whole-heartedly recommend the film to the uninitiated in at least one form. If you missed the film in theatres, don't rent the DVD; check it out on Netflix Instant Viewing.
Click here to see LET THE RIGHT ONE IN on Netflix.


Full Disclosure: Cinefantastique Online recently signed on as a Netflix affiliate, so we do get a commission if you sign up after clicking through one of our links. In defense of selling out, Netflix Instant Viewing is a service we use ourselves on a daily basis, and we were plugging it it even before we became an affiliate. With Netflix, you do not pay to rent individual titles; you get unlimited instant viewing at no extra cost with a one-at-a-time DVD rental for $8.95 a month.