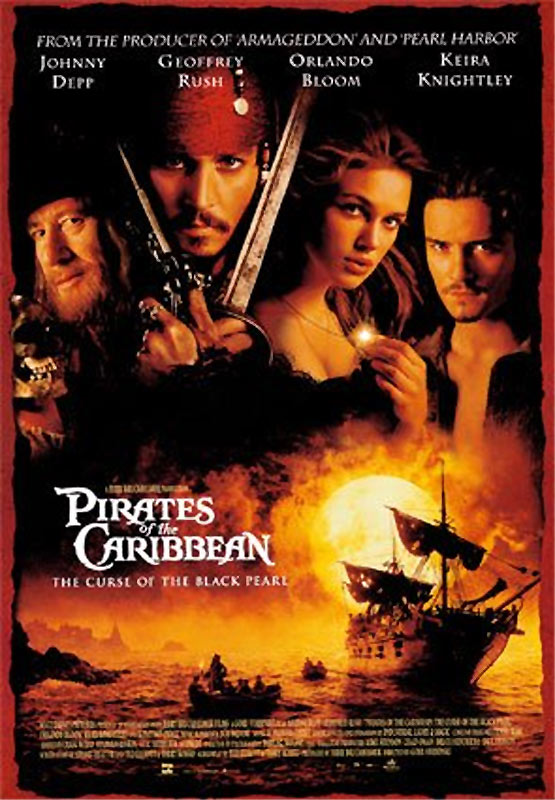 The concept hardly sounds auspicious – making a feature film based upon a ride at Disneyland – but PIRATES OF THE CARIBBEAN turns out to be a Hollywood blockbuster in the best sense of the word: a glorious piece of large-scale entertainment that uses its budget to grand effect, filling the screen with action, stunts, swordplay, costumes, sets and special effects, without ever losing sight of the story and characters.
Working from a clever script by Ted Elliott and Terry Rossio, director Gore Verbinski does a fine job of navigating a perilous journey that jumps from one tone to the other, incorporating comedy, romance, melodrama, fantasy, and even some outright horror, creating that often touted but seldom achieved commodity, a "film for the whole family."
The rousing score by Klaus Badelt captures the wind-swept vigor of old-fashioned pirate movies without ever feeling embalmed in nostalgia. The same can be said for the cannon fire and swordplay, which is handled with all the visual excellence that modern technology can achieve. The result is a film that lives up to its cinematic forebears without ever being a slave to their established formulae.
The cast is engaging and memorable – not small feat when the script is filled with so many characters wrapped in separate plot threads that diverge and then tie together. Johnny Depp plays a dangerous gambit, making Captain Jack Sparrow more than slightly off-kilter and even a little whacked-out, but it pays off, creating a memorable screen icon unlike any other pirate from the past. (The actor reportedly based his performance on Rolling Stone guitarist Keith Richards, whom Depp considers the modern equivalent of a pirate.) Geoffrey Rush brings a larger-than-life villainy to the screen with gusto – and even a touch of sympathy, as the cursed, undead pirate visibly years for the simply earthly pleasures (like eating an apple) that he can no longer enjoy. Jonathan Pryce is great in a supporting role, as is most of the supporting case. Only Orlando Bloom and Keira Knightley seem slightly bound by their relatively straight-laced romantic roles – sincere characters acting like straight men to the more outrageous and colorful personages around them. Fortunately, this actually helps the film overall, creating the necessary counterbalance that prevents the film from spinning off out of control. (Nevertheless, Knightley's attempts at "acting" – including a furrowed brow to represent concentration or intensity or something or other – are a bit shallow. She's better off at playing simply smug and over-confident – qualities that are roundly slapped down when she realizes, to her horror, that she is trapped on a ship with sailors who are not only pirates – but the living dead as well!)
Underlying all the gloss is a story about possibly unreliable alliances of convenience that seems at least partly inspired by Sergio Leone Westerns like THE GOOD, THE BAD & THE UGLY (a fact that comes clearer in the sequel, which offers up a three-way sword fight instead of a three-way shoot-out). In PIRATES OF THE CARIBBEAN: THE CURSE OF THE BLACK PEARL, Depp's Captain Jack Sparrow is an ambiguous character, whom the audience loves for his panache, but the film's more straight-arrow hero and heroine can trust him only as long as their interests and his coincide. This simple dramatic strategy helps prevents the film from ever slipping into the simple action-movie rut of offering up more and bigger explosions.
Not that it stints on the firepower. Like THE MATRIX, this film gives all you could want, but never leaves you feeling worn out and exhausted – only wanting more. That's because the whole thing is orchestrated so perfectly, with clever dialogue and quiet moments separating the knock-about set pieces. And on top of all that, it's not only a great pirate movie; it's a great ghost story, too.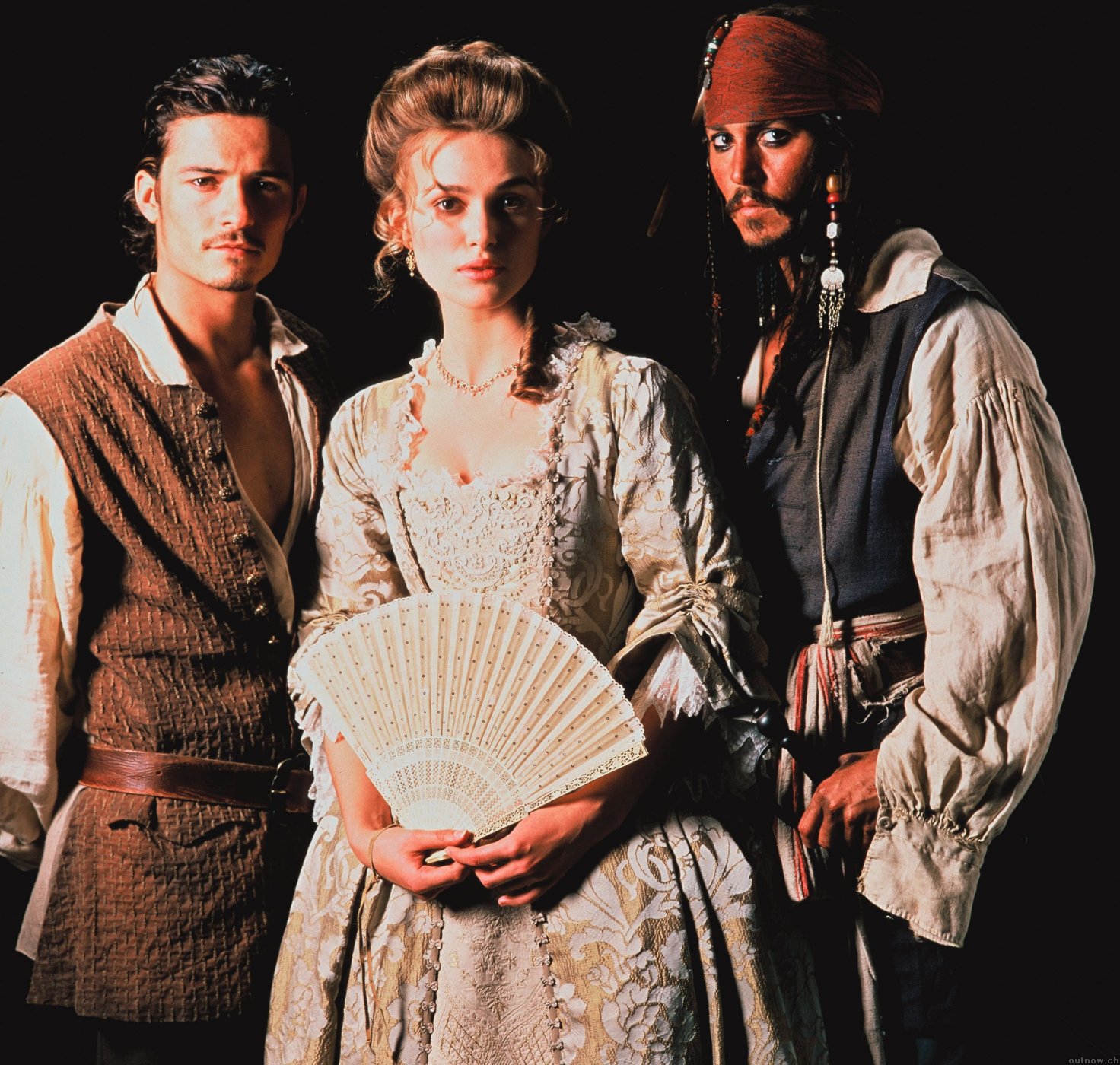 DVD DETAILS
PIRATES OF THE CARIBBEAN was originally released on DVD in a two-disc version; later, a three-disc version came out.
The two-disc "Collector's Edition" features a widescreen image; optional French subtitles; and English and French audio tracks. The first disc also contains three audio commentaries: one by director Gore Verbinski and star Johnny Depp; one by actors Keira Knightley and Jack Davenport; and one by screenwriters Stuart Beattie, Ted Elliot, Terry Rossio, and Jay Wolpert. The commentary with Verbinski and Depp is a bit chatty and conversational, with the director and star recalling the good times (and the bad) they had filming, but not necessarily delivering much information.
The second disc contains a ton of bonus features, staring with AN EPIC AT SEA: THE MAKING OF "PIRATES OF THE CARIBBEAN: THE CURSE OF THE BLACK PEARL." This is a fairly standard promotional puff-piece, culled from on-set interview footage – amusing but not terribly informative, and lacking the perspective of a genuine documentary.
The "Fly on the Set" section offers a handful of chapters showcasing B-roll footage taken behind the scenes of sequences such as the attack on the town and Jack's Hanging.
The "Diaries" section provides a photo diary by producer Jerry Bruckheimer. There is also an amusing "Pirate's Diary" by actor Lee Arenberg – a sort of funny video journal of his time playing one of the film's pirates. And there is a "ship's journal," detailing the logistics of getting an actual, working sailing ship to location for filming.
"Below Deck" is an interactive section that allows you to use you remote to move the cursor about, selecting different areas of a computer-generated pirate ship to click on, leading you to brief chapters on different topics like "Buried Treasure," featuring historian David Cordingly. Among other things, you will learn that not many pirates buried treasure – what would be the point, when they wanted to head to shore and spend the money and drink and women? If you don't like the interactive feature, you can view the chapters sequentially, one by one, by selecting separate titles, or see them tied together with CGI interstitial segments featuring a pirate prisoner writing his memoirs.
There is a blooper reel – a brief montage set to music – that is not nearly as funny as it should be. There are also nineteen "deleted scenes," which turn out to be mostly "extended" versions of scenes that are actually in the movie, many of them containing only an extra line or two of dialogue. Most of them add little to the story, so it clearly made sense to make the excisions for the sake of speeding the pace. The only slight exception is the ironically titled "No Truth at All," in which Jack shows some battle scars on his forearms, indicating that at least some of the stories about his wild adventures must be true.
"Moonlight Serenade" offers a look at the creating of the sequence in which Elizabeth (Knightley) first sees the pirates skeletal countenances revealed by the light of the moon – showing the shooting and the addition of special effects in post-production.
The Image Gallery is divided into several categories: Inspiration (old pirate paintings and illustrations); Concept Art; Storyboards (of a handful of sequences); Costumes (offering comparisons of designs with the final outfits on the actors); Production stills; and Publicity posters.
"Pirates in the Park" contains an old episode of THE WONDERFUL WORLD OF DISNEY, which showcases the development and debut of the Pirates of the Caribbean ride at Disneyland. Also in this section is a brief preview of the "Enhanced DVD-Rom Features," which you can access by putting the disc into your computer. (You have to download some software from the discs for this feature to work, unfortunately.)
THE LOST DISC
The Special Edition 3-Disc Gift Set contains a third DVD, entitled "The Lost Disc." (This was apparently intended to be included with the original DVD release: if you try to plays Disc 1 from that package on your computer, Windows Media Player shows the title as "Pirates of the Caribbean: The Curse of the Black Pearl [3 Discs], although the packaging clearly says "2-Disc Collector's Edition.")
The third disc contains several featurettes not in the two-disc package:
"Becoming Captain Jack" – Johnny Depp featurette
"Becoming Barbossa" – Geoffrey Rush featurette
"Thar She Blows!" – Building and blowing up the ship Interceptor
"The Monkey's Name is Jack" – a look at the two real monkeys who played the undead simian in the film
There are also additional "Fly on the Set" chapters; an "international release comparison'; a "Sneak Attack Animatic," and a section called "Spirit of the Ride," in which Johnny Depp, Gore Verbinski, and others offer up their recollections of enjoy the ride at Disneyland.
PIRATES OF THE CARIBBEAN: CURSE OF THE BLACK PEARL (2003). Directed by Gore Verbinski. Screenplay by Ted Elliott & Terry Rossio, based a story by Elliott & Rossio and Stuart beattie and Jay Wolpert, inspired by the Disneyland ride. Cast: Johnny Depp, Geoffrey Rush, Orlando  Bloom, Keira Knightley, Jack Davenport, Jonathan Pryce, Lee arenberg