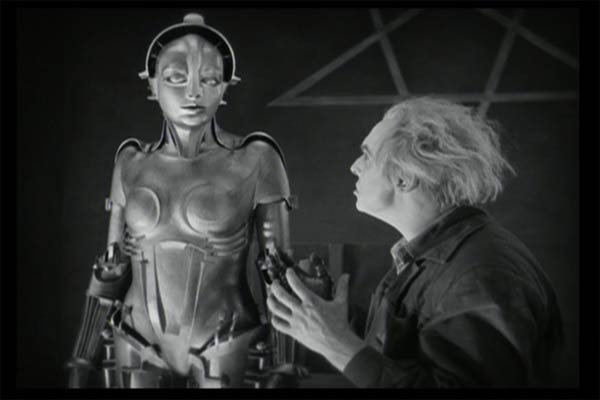 Here is some astounding news. Although METROPOLIS has recently been restored by the Munich Film Museum, many of the lost scenes from the 3 hour version that premiered in Berlin in 1927 were still missing. Now, even more of the missing scenes have been found in South America. A report from the German newspaper Die Zeit outlining the details of this sensational discovery (along with some unrestored shots from the missing scenes), can be found here.
Here is some additional background on the cutting of METROPOLIS , taken from the catalogue for the wonderful Fritz Lang retrospective that was organized by the Berlin Film Museum, that was on view at the Academy of Motion Pictures Arts & Sciences Beverly Hills headquarters in the fall of 2001:
THE MISSING SCENES

A few weeks after the premiere of METROPOLIS , in the spring of 1927, Ufa had the film recut according to Channing Pollock's reworked version for Paramount and shortened by approximately 1000 meters. The material cut from the film has been lost ever since, and METROPOLIS now only exists in a version which distorts Fritz Lang's and Thea von Harbou's original intentions. Compared to the premiered version, the content has been changed in places beyond recognition. Central characters were simply cut from the film or their roles considerably shortened. The motivations of the main protagonists were changed and certain backdrops disappeared.
The original form of the film can, however, be deduced from the script, as well as the censorship notes for the first version and the surviving original score by Gottfried Huppertz. Reconstructed versions of the film, such as the one put together by the Munich Film Museum, are based on these sources. Recently the Friedrich Wilhelm Murnau Foundation reorganized the existing film material by referring to the surviving documents, so that the original sequence of scenes have been re-established as far as possible. Moreover, there are over 800 stills of scenes from the production by Horst von Harbou which document the making of the film and convey an impression – albeit a static one – of some of the lost sequences.
Click here to view a gallery of six photos from the missing footage discovered in Buenos Aires.