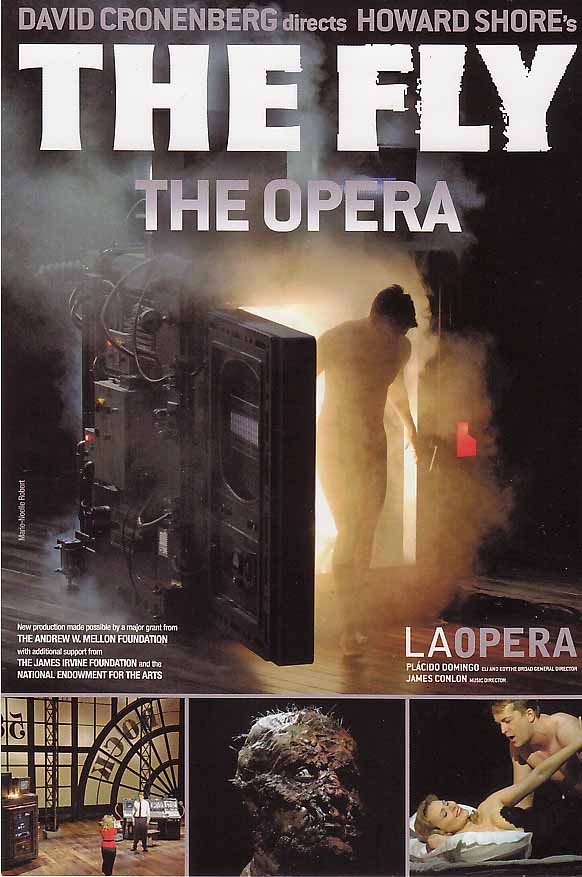 Howard Shore's opera The Fly, based on the 1986 film directed by David Cronenberg (itself a remake of the 1958 film starring Vincent Price and Al Hedison), will open in Los Angeles next month. In honor of the event, the American Film Institue is hosting a screening of the film in Hollywood's Cinerama Dome on Wednesday, September 3 at 8:00pm. This will be a brand new print of the film, and Cronenberg and Shore (who are in town for the opera) will be on hand to answer questions before the screening.
The film is part of the AFI's Director's Screenings. The AFI's page aptly describes this film:
THE FLY is an extraordinary example of Cronenberg's particular brand of "body horror"; flesh transformed by disease. Seth Brundle (Jeff Goldblum) is an eccentric scientist, whose experiments with teleportation go awry, leading to one of the horror genre's most disgusting and gory physical transformations. Ultimately, David Cronenberg's version of THE FLY – based on a short story by George Langelaan and the 1958 film that starred Vincent Price — is a dark romantic tragedy about the wasting away of a brilliant man who mutates into an insect as his loved one looks on helplessly.
The ArcLight Cinema's Cinerama Dome is located at 6360 Sunset Blvd, Hollywood CA. You can purchase tickets for the screening at the ArcLight's website.
Other upcoming events around Hollywood include:
Live, in-theatre audio commentaries by directors Nicolas Meyer and Jon Favreau on their films TIME AFTER TIME and IRON MAN, respectively. Both film screen at the Aero Theatre in Santa Monica: TIME AFTER TIME on Friday, September 5 at 7:30pm; IRON MAN on Saturday, September 6 at 7:30pm. Read more here.
A Grindhouse Film Festival tribute to actor Clu Gulager, featuring a double bill of FEAST and RETURN OF THE LIVING DEAD. The double bill screens on Wednesday and Thursday, August 27 and 28 at the New Beverly Cinema. The festival continues on Friday and Saturday with a double bill of THE KILLERS and THE LAST PICTURE SHOW. Gulager will be in attendance at all screenings to discuss the film. Read more here.
You can keep up on the latest Fantasy Films, Mystery Movies, Halloween Horror & Sci-Fi Cinema Events in Los Angeles by checking out the Hollywood Gothique website.
RELATED ARTICLE: