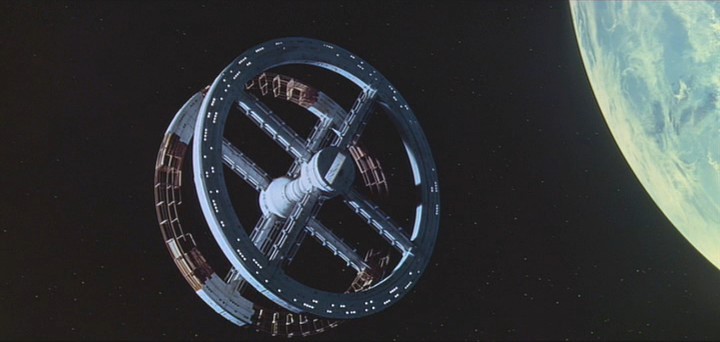 Tonight the ArcLight Cinemas in Hollywood launches their September Cinerama Showcase with screenings of 2001: A SPACE ODYSSEY, Stanley Kubrick's monumental science-fiction epic. The film will at 8:00 and 11:40pm in the Cinerama Dome theatre in the 70mm Cinerama format with six channel sound, as it was screeened there when originally released in 1968. 100 copies of the Special Edition Blu-ray disc of the film will be given to the first 100 ticket holders in line for the 8:00pm show.
Unfortunately, the 8pm show is already sold out. There are still tickets for 11:40, available here.
Just to get pedantic for a moment, the use of the term "Cinerama" in reference to SPACE ODYSSEY has always struck me as a bit of a misnomer. The original Cinerama process created a triple-widescreen effect by filming with three camera – left, right, and center – and projecting the imags in sync. The aspect ratio was three times as wide as a standard format film (approximately four feet wide for every one foot of height).
SPACE ODYSSEY was filmed in anamorphic 70mm, a combination of two different widescreen processes. 70 mm is twice as wide as standard 35mm film, creating a project image approximately twice as wide (it comes up a bit short because some of the width is used to accomodate six separate soundtrack stripes). Anamorphic uses special lenses to stretch the image even wider, resulting in an aspect ratio of 2.75. The result is a spectacular image that captures the vast vistas of both "The Dawn of Man" and "Jupiter and Beyond the Infinite." But it's not really Cinerama. In truth, it is probably a little better, as Cinerama was frought with troubles (e.g., the three projectors going out of sync).
If that's not enough great science-fiction on the big screen, the Arclight Hollywood will presente BLADE RUNNER: THE FINAL CUTon September 10, with director Ridley Scott in person for a Q&A after the screening. This show, too, seems to be sold out, but there is always a chance you can get a ticket on the night of the event if some of the pre-sales turn out to be no-shows.
---
THE RETURN OF JACK AND SALLY IN 3-D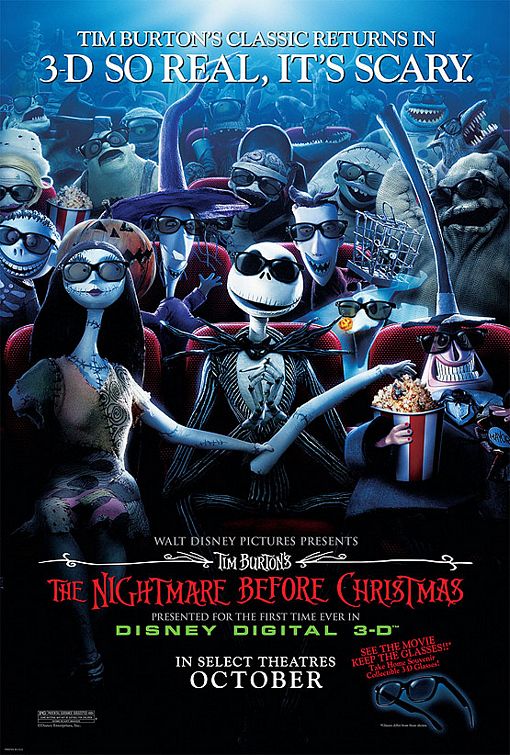 It just wouldn't be Halloween with Tim Burton's THE NIGHTMARE BEFORE CHRISTMAS playing at the Disney-owned El Capitan Theater in Hollywood. This year, as for the last two years, the film will be presented in Disney Digital 3-D for an even more eye-popping experience.
The film will screen for one week from October 17 to October 23, with showings at 12:15pm, 2:30pm, 4:45pm, 7:00pm, 9:15pm, and 11:15pm. On Halloween weekend, Thursday, October 30 through Saturday, November 1, there will be 12:30am late shows.
At the 7:00pm showing on Friday the 17th, there will be a filmmaker discussion panel.
Call 1-800-DISNEY6 for tickets or visit the El Capitan's website.
Other films at El Capitan:
SLEEPING BEAUTY, Disney's animated classic, through September 18.
TINKERBELL (the computer-animated sequel to PETER PAN, which is scheduled for DVD release on October 28) from September 19 through October 2.
BEVERLY HILLS CHIHUAHUA from October 3 through 16.
---
CINEFAMILY'S HALLOWEEN HORROR
There can be no doubt about it: CineFamily's Silent Movie Theatre in the Fairfax district of Los Angeles absolutely owns Halloween this year. Sure, there will be two or three horror film festivals in Hollywood, and lots of other theatres and venues are scheduling special events for the season, but the Silent Movie Theatre is so loaded with horror titles that you could spend nearly the entire month of October there – if your endurance can stand it.
There are literally dozens of titles listed on their October schedule, divided into some pretty cool programs:
But wait – there's more! Scattered throughout the month will be screenings of FREAKS (the 1932 Tod Browning production with real circus freaks), Roger Corman's masterpiece MASQUE OF THE RED DEATH, Spooky animated shorts, THE BLOB (1988), THE HIDDEN, TV Halloween specials, a Wes Craven double bill, and the whole thing culminates on Halloween night with a screening of THE TINGLER, followed by a dance party in the theatre. (Appropriately, a subplot of William Castle's gimmicky 1959 thriller, starring Vincent Price, involves the Silent Movie Theatre.)
All I can say is, the CineFamily should offer a contest – the winner being anyone who can sit through every item on this marathon agenda.
NOTE: For those of you wondering about the name "Silent Movie Theatre," it is a bit of a vestige from the theatre's previous incarnation. Silent films are still programmed on Wednesdays, but the rest of the week is given over to cult and classic titls of various shapes and sizes.
As always, you can keep abreast of Fantasy Films, Mystery Movies, Halloween Horror and Sci-Fi Cinema Events in Los Angeles by checking out our affiliate website, Hollywood Gothique. Lots of smaller local events are listed there that do not make it into Cinefantastique Online. At the moment, we are deeply immersed in preparing for the upcoming Halloween season. Come on and check it out!