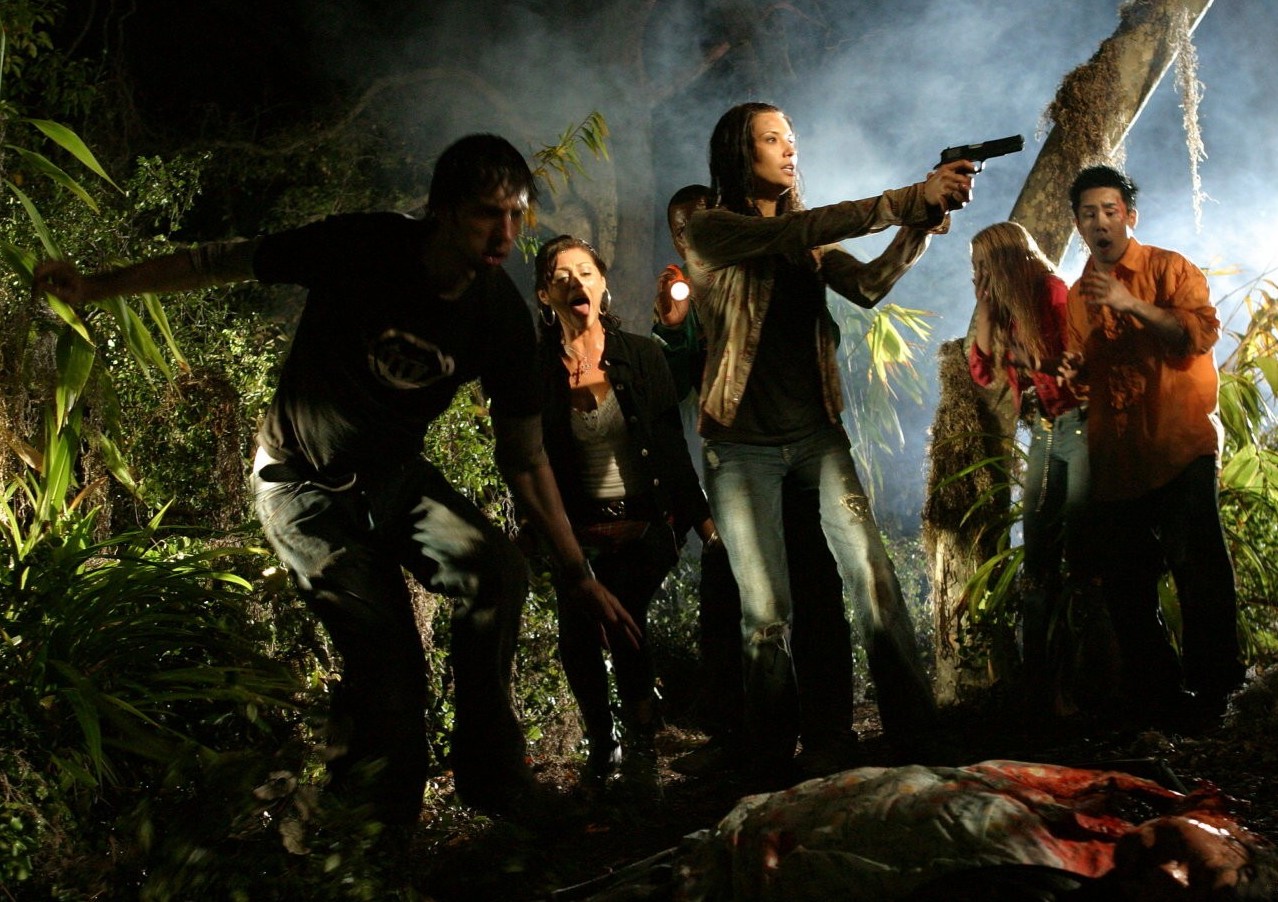 Slasher homage exceeds originals
This may be the bucket of blood that splatter fans were eagerly anticipating (those for whom FRIDAY THE 13TH is a fond memory), but it is also an excellent horror film with solid scripting and strong performances that make it appealing to a wider audience.
The movie is an unapologetic throwback to 1980s slasher films, with numerous tips of the hats to its progenitors. Robert Englund (best known as dream demon Freddy Kruger) has a cameo as an early victim; Tony Todd (best known as Candyman) puts in a brief, comical appearance; makeup man John Carl Buechler (FROM BEYOND) provides the carnage and appears on-screen as the obligatory prophet of doom, a drunken old loon warning the tourists that death awaits them in the swamp. Finally, Kane Hodder (best known as masked killer Jason Voorhees) plays the mad, mutant, and possibly supernatural psycho-killer.
Which is completely appropriate because HATCHET, like FRIDAY THE 13TH, is about some teen-agers stalked by a mad killer in the woods. The story follows a group of friends on vacation who decided to take a night-time boat tour; unfortunately, the boat runs aground, stranding them in the middle of territory presided over – or so legend has it – by the deformed off-spring of a lonely cabin-dweller who was killed by a Halloween prank gone wrong.
Set in the Louisiana bayou, the film has atmosphere to spare, and even the obligatory legend explaining the killer's existence is presented with panache. The suggestion of supernatural overtones (the killer is supposed to have died in the fire that killed his father), along with the creepiness of the location, creates an ambience wherein the existence of an apparently unstoppable killer seems complete convincing – not just an obligatory genre convention.
HATCHET far exceeds its inspiration models, thanks to convincing execution by writer-director Adam Greenberg, who makes the gore scenes really hurt. Working with a convincing cast of characters – none of whom deserves their fate – he creates a wonderfully aggressive horror show filled with equal parts suspense and shock. Viewers won't find themselves bored between atrocities, eagerly awaiting the next geyser of gore to break the tedium; even jaded gore hounds may find themselves squirming in dreadful anticipation of what will happen next. The film's violence is unapologetically unrestrained; in fact, the film is almost too effective, becoming frightening rather than fun as the hapless tourists are picked off one by one in hideously graphic fashion: decapitation by shovel, a power saw to the face, and arms ripped out of their sockets, etc.
If there is any obvious flaw to HATCHET, it lies in perhaps too close an adherence to its role models, which inevitably served up obligatory "surprise" endings that left doors open for sequels. After exceeding expectations with its sense of credible story-telling, it's a bit disappointing to see HATCHET surrender to mechanical genre conventions. The ending plays like a sop thrown to the hard-core horror hounds who don't give a damn about character or story so long as there's shock aplenty on view. The shock certainly works, but it yanks you out of the realm of verisimilitude, where you are genuinely frightened, and tosses you back into the movie-movie world, where you hoot and holler like someone enjoying a ride on a roller-coaster. The thrill's still there, but it lacks the genuinely disturbing touch of something like THE DESCENT.
TRIVIA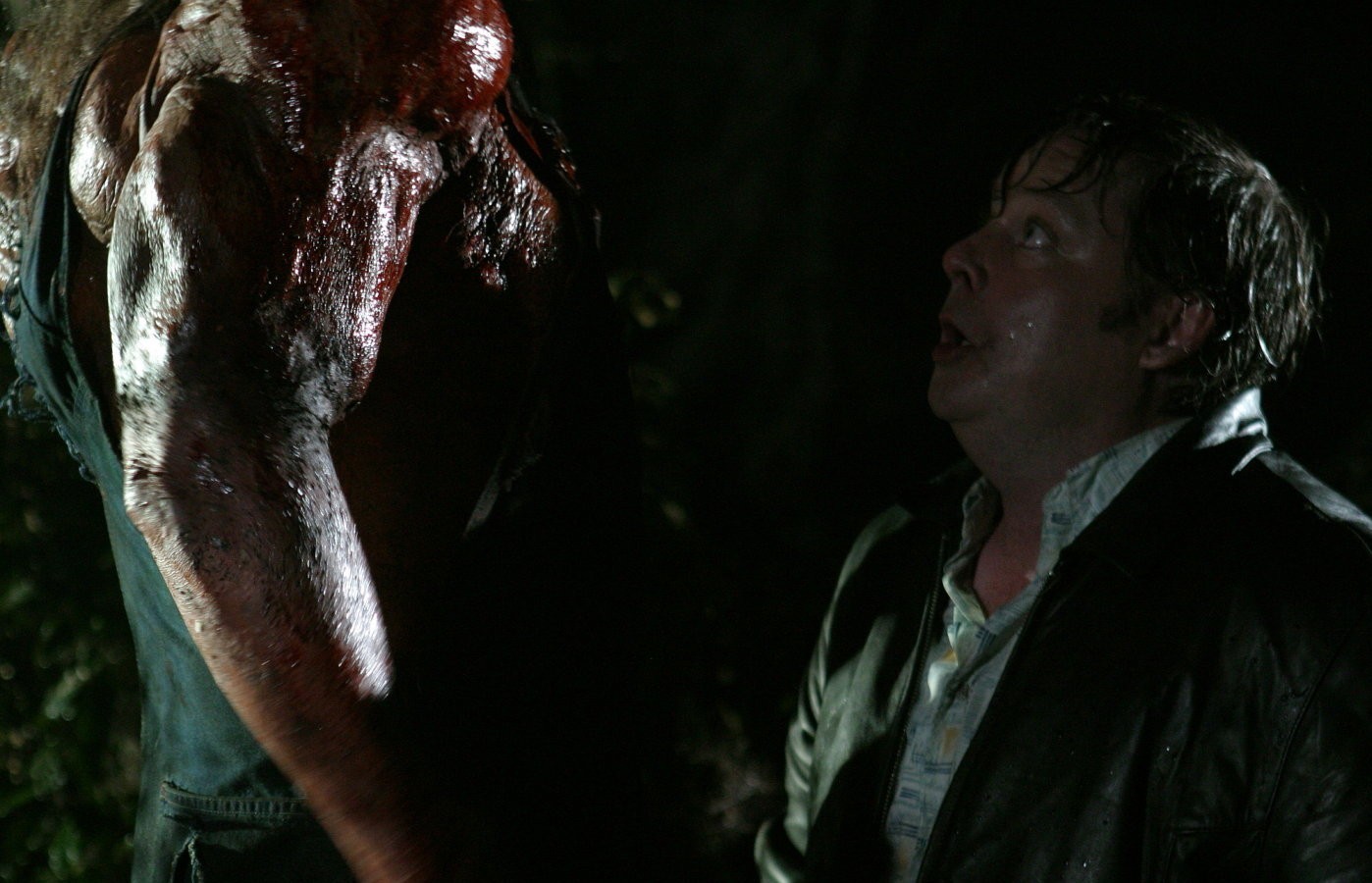 The film earned a reputation as a crowd-pleasing horror fave on the festival circuit in 2006. At its final festival screening, at Screamfest in Hollywood, October 2006, writer-director Adam Green told the eager audience. "Since we first showed it in March, this print has been all around the world, and I've been with it. Right now, I feel about like the print looks." He pumped up the audience by adding, "Our best response has been in London, because those fuckers are crazy, but since this is the end of the tour and we're back home, I think you can beat them. Let's rip the roof off this place!" That was the first – but not the last -time that the audience erupted into applause.
The poster art for the film's festival tour proudly proclaimed that HATCHET is "old school horror" (circa 1980): "It's not a sequel. It's not a remake. And it's not based on a Japanese one."  Truer words were never spoken.
After is festival run, HATCHET was picked up for home video distribution by Anchor Bay Entertainment, a company known for their excellent limited edition DVDs devoted to cult horror movies. The company opted to schedule for film for a platform theatrical release in 2007. The MPAA is likely to demand some major cuts in exchange for an R-rating. The film is strong enough to withstand the censors scissors without losing too much of its effectiveness.
SPOILER ALRERT: HATCHET drops a few subtle hints that lay the seeds for future sequels. In the flashback of the Halloween trick-or-treat gone wrong, the camera lingers on the masked face of one of the pranksters, without revealing his identity – which will probably be revealed in any follow-up. Most likely, he will turn out to be the alligator hunter, played by Robert Englund, who is an early victim in the film, making his death not one of random violence but of revenge.
HATCHET (2006). Written & directed by Adam Green. Cast: Joel David Moore, Tamara Feldman, Deon Richmond, Mercedes McNab, Kane Hodder, Parry Shen, Joleigh Fioreavanti, Joel Murray, Richard Riehle, Patrika Darbo, Robert Englund, Joshua Leonard, Tony Todd, John Carl Buechler
[serialposts]