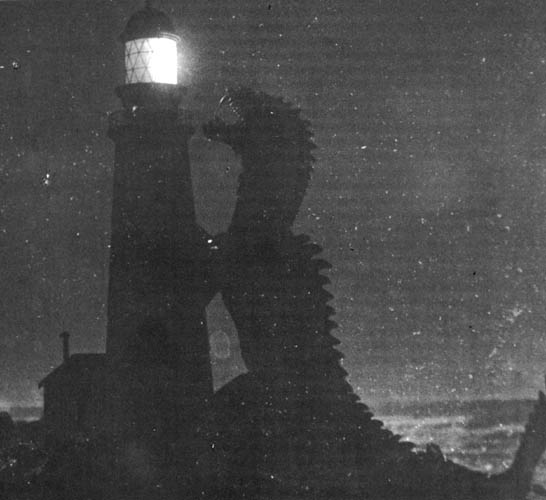 Cinefantastique Online wishes a belated Happy Birthday to Ray Bradbury, author of The Martian Chronicles and so many other great worst of fantasy fiction. Finding Dulcinea (which bills itself as the "Librarian of the Internet") has a nice tribute here.
Bradbury has been a major influence on fantasy and science-fiction, although his screen credits are relatively few and far between (something about his whimsical, imaginative prose defies translation to celluloid). Several of his novels and short stories have been turned into movies or television episodes (THE ILLUSTRATED MAN, SOMETHING WICKED THIS WAY COMES). He wrote only one episode of THE TWILIGHT ZONE ("The Electric Grandmother"), but many of Rod Serling's most famous episodes bore notable similarities to Bradbury's work (the focus on the common man encountering strange and wonderful experiences).
Perhaps the film that had the biggest impact on sci-fi cinema featured, ironically, his smallest contribution: THE BEAST FROM 20,000 FATHOMS (1953) portrayed a prehistoric creature that destroys a light house as in Bradbury's story "The Foghorn." The script was not officially an adaptation until Bradbury's friend Ray Harryhausen, who provided the visual effects, show him a copy; when Bradbury noted the similarities, he received a payment and screen credit. The film launched the giant radio-active monster sub-genre of the '50s and inspired Japan's GODZILLA (1954), which in turn launched a tidal wave of giant monster movies that extends to the current decade.
Something about Bradbury's story, his appreciation of the monstrous mysteries that may lurk in the depths of the ocean, inspired legendary filmmaker John Huston to ask him to write the screenplay for his 1956 film version of MOBY DICK. (You can read Bradbury's reminiscence about that collaboration here.)
Says Bradbury of his work on that film and what it meant to him and his life in general:
We're endowed with the gift of life. It's a total mystery, and we try to make sense of it. We wake at night and say to ourselves, 'This is incredible. We're living on this world, and we don't know how we got here.' Scientists haven't figured it out; they have theories, but they don't know. The very existence of life is impossible. All the great religions have this mystery at their center, and Moby Dick is that mystery, and Ahab chooses to interpret that mystery in his way, and it's not necessarily true. The mystery is not evil; it just is. And we are a mystery to ourselves. I feel this every day of my life. Moby Dick helped open this up to me.