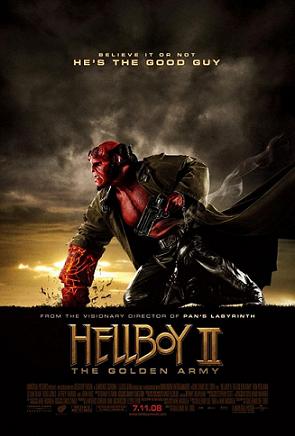 I have a strong hunch you're going to like this movie. A lot. You need not be familiar with its comic book origins. Or the just-released video game. Hell, boy, you don't even need to have seen the 2004 film,of which this is the sequel.  The reason for this is because writer-director Guillermo del  Toro is a fine storyteller with a bravura visual palate. And he thinks you're pretty smart too. Smart enough to embrace a movie that lets its fantasy characters exude real human emotions, all the while delivering on the spectacle summer audiences expect.
After a brief  revisitiing of the Hellboy mythology, we are introduced to the narrative backstory by way of a bedtime tale told to a young Hellboy (a.k.a. "Red"), a normal , exuberant child of the '50s. It seems there has been a long held truce between Humankind and denizens of a fantastic invisible underworld that is now being threatened by a rebellious Prince who intends to use a Lovecraftian army of creatures to overthrow humanity. It is left to Hellboy, his pyrokinetic girlfriend Liz, best friend and aquatic empath Abe Sapien, and others at the Bureau of Paranormal Research and Defense to quell the onslaught. Help is provided by the Prince's sister, who only desires peace between the two worlds.
A  fairly straightforward narrative, to be sure. But, of course, it is all in the execution, and in this del Toro is masterful.  While this battle royale proceeds , his protagonists also have everyday concerns. Red and Liz are having cohabitation issues, and Abe is falling for the Princess. A scene where Hellboy and Abe commiserate over some beers is allowed the time it needs to flow naturally and is played with great warmth and  humor.
Del Toro gets uniformly endearing performances from  Ron Perlman  as Hellboy, Doug  Jones as Abe, and Selma Blair as Liz. Adding a classical dramatic heft to the proceedings are  Luke Goss  and Anna Walton as the rival Prince and Princess.  Even in abbreviated roles, veterans John Hurt and Roy Dotrice ( in a reunion of sorts with Perlman, from their days on the beloved BEAUTY AND THE BEAST television series of twenty years ago) shine.
For those who were entranced by del Toro's emotionally rich and visually stunning Spanish Civil War themed THE DEVIL'S BACKBONE (2001) and PAN'S LABYRINTH (2006), you are urged to see del Toro go summer blockbuster mainstream. No guilty pleasure side effects will ensue.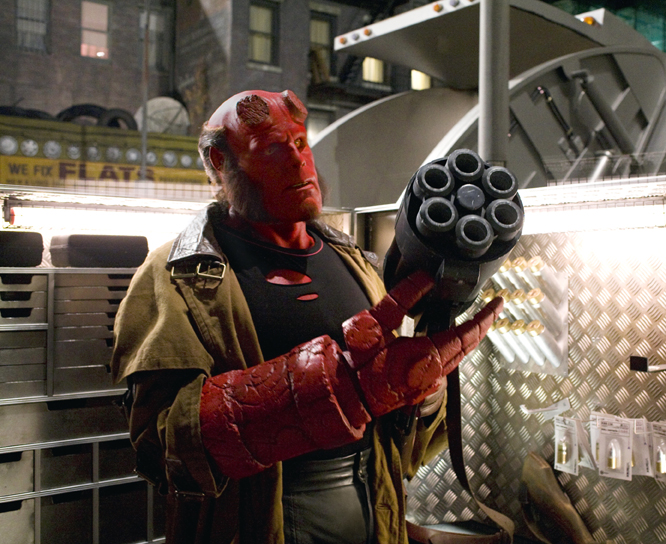 HELLBOY II: THE GOLDEN ARMY (2008). Directed by Guillermo del Toro. Screenplay by Guillermo del Toro, from a story by Del Toro and Mike Mignola, based on Mignola's comic book. Cast: Ron Perlman, Selma Blair, Doug Jones, John Alexander, James Dodd, Seth macFarlane, Luke Goss, Anna Walton, Jeffrey Tambor, John Hurt, Brian Steele.
RELATED ARTICLES: