DESTROY ALL MONSTERS is probably the last well-regarded entry in the original Godzilla series. By this time, all serious threat of the monsters had disappeared; recognizing this, director Ishiro Honda (who had helmed the original GODIZLLA in 1954 and many of the subsequent sequels) opted for a fast-paced action-adventure roller-coaster thrill ride that was seldom scary but always entertaining. Co-scripting with Takeshi Kimura (RODAN), Honda used a slim, familiar story (aliens use monsters as weapons in a war against the Earth) to string together as many effects sequences as possible, creating a memorably colorful confection.
Basically, it's MONSTER ZERO (a.k.a. INVASION OF ASTRO-MONSTER) all over again, except this time, instead of just Godzilla, Rodan, and King Ghidorah, we also get Mothra, Anguirus, Gorosaurus, Manda,  Kumonga (a.k.a. Spiga, the giant spider), Varan, Baragon and Minya, Godzilla's son. DESTROY ALL MONSTERS lacks MONSTER ZERO's slightly more adult storyline and the clever banter between Nick Adams and Akira Takarada, but it delivers much more monster action. True, some of the monsters make little more than cameo appearances, but the big stars get plenty of screen time, and second-stringers Anguirus, Gorosaurus, and Manda get a  few moments to shine as well.
Before DESTROY ALL MONSTERS, the previous two films in the series, GODZILLA VS THE SEA MONSTER and SON OF GODZILLA, had shifted gears, with director Jun Fukada and composer Masuro Sato replacing the Ishiro Honda and composer Akira Ifukube. The results were light-hearted and fun, offering a clear change of pace for the series.
DESTROY ALL MONSTERS sees a return to form, with the old director-composer team back in place, with Ifukube offering another example of his impressive monster movie music, by turns ominous, mysterious, and rousing – quite a contrast to Sato's jazz-pop stylings (which were more suited to something like GODZILLA VS. THE SEA MONSTER, which stuck the monsters in the middle of what looked like a spy adventure).
Also notable is the absence of screenwriter Shinichi Sekizawa, one of the chief architects of transforming Godzilla from villain to hero. It would be going too far to say that his absence signals a more serious approach in DESTROY ALL MONSTER, but the screenplay by Honda and Kimura definitely avoids the juvenile tone of SON OF GODZILLA.
Instead, DESTROY ALL MONSTERS is a true movie-movie. It takes itself seriously only in the sense that it does not adopt an attitude of campy condesension towards its monster-filled alien-invasion scenario. The events are presented in a straight-forward way that is an almost perfect realization of any ten-year-old boy's dream of the most awesome movie adventure ever, loaded with heroic heroes piloting rocket ships to the moon and back while battling an evil race that has turned all of Earth's monsters loose in one cataclysmic attack.
Honda directs DESTROY ALL MONSTERS with brisk efficiency, using the widescreen image to show off the sets and letting the actors have a ball. A free-for-all shoot out between astronauts and aliens has the heroes waving guns around not in manner designed to actualy hit a target but simply to look good on camera. In a way, this is the apex of '60s cinema, back when movies like OUR MAN FLYNT were all about having a good time with gadgets and explosions, no matter how unlikely the storyline.
Fortunately, Honda offers more than just monsters and mayhem; there are even a few intriguing moments that border on the subtle. A long interrogation with a human taken over by aliens holds attention because the interrogation subject (Yoshio Tsuchiya) always seems on the verge of breaking his silence – but he never does. Outside on the beach, another human controlled by aliens – this one a woman – walks along a beach in high heels; the sight of those high-fashion stilettos sinking into the sand is almost surreal.
And in one of the most memorable sequences of any giant monster movie, this same alien-controlled woman walks, calm and unconcerned, amidst the panic that erupts when sirens announce an imminent attack on Tokyo. The stark contrast between the mad, rushing crowds and her serence face, indifferent to (or perhaps even eager for) the monsters' arrival, is a wonderful sight to behold.
Special effects director Sadamasa Arikawa (working under the "supervision" of Japanese effects pioneer Eiji Tsuburaya) delivers several memorable sequences in DESTROY ALL MONSTERS. The initial attacks on Moscow, Paris, and New York go by too fast, but theyleave you wanting more. The aforementioned attack on Tokyo is one of the great sequences of its type, featuring a coordinated assault by four monsters (Godzilla, Rodan, Mothra, and Manda), with some cleverly timed action (e.g., the serpentine Manda cracks a bridge in the foreground simultaneously with Godzilla's blasting a building with his radioactive breath).
Of course, Arikawa's effects are far from convincing, but that becomes part of the charm. By this time, Toho had given up almost any pretense of making you believe in their menagerie of monsters and had developed their own particular aesthetic, in which acrobatic flair and flashy pyrotechnics outweighed believability. Consequently, even if the vision of space travel, rockets, and lunar landscapes in DESTROY ALL MONSTERS looks quaint compared to 2001: A SPACE ODYSSEY – well, the unreality suits the storyline.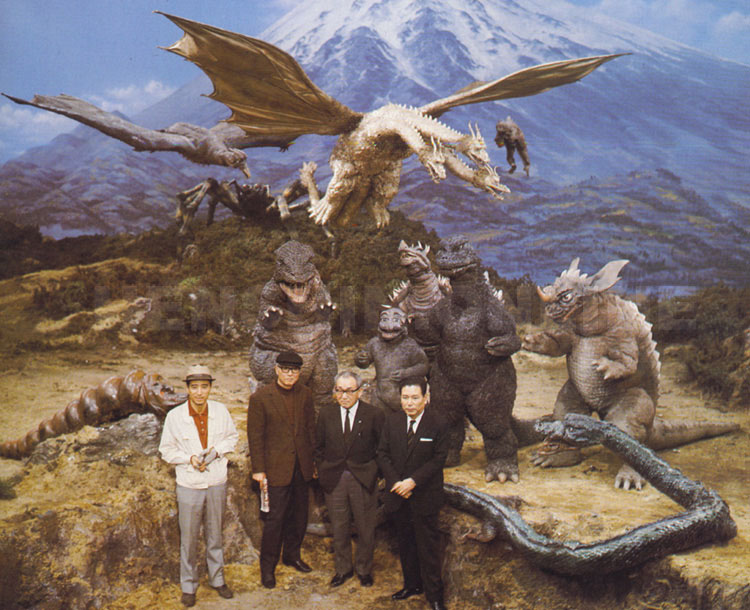 Keeping with this tradition, the final all-out assault of Earth's monsters against the alien's ace in the hole, King Ghidorah, is as entertaining a battle as ever put on screen, even though the wires show. The action deliberately defies physics, opting for a World Wrestling aesthetic in which monsters supposedly weighing thousands of tons effortlessly leap, jump, and fly with acrobatic flair; at one point, Gorosaurus even springs high off the ground to deliver a kick to Ghidorah's back. Also as in wrestling, bodies are slammed, kicked, punched, and pummelled, with little if any real damage ever done – it's all for show, not effectiveness. And Arikawa cannot resist the urge to anthropomorphize the monsters, as when Minya shields his eyes to avoid seeing King Ghidorah drop Anguirus to the ground (a shot deleted by AIP when the film played in U.S. theatres).
Despite all this, Ishiro Honda and Sadamasa Arikawa combine their talents to create one scene in DESTROY ALL MONSTERS that offers at least an echo of genuine suspense: when the heroes search for the aliens' hidden lair on Earth, they are interrupted by Godzilla and Anguiras, acting as enormous guard dogs. Unlike many of Toho's then-current films, which tended to shoot the monsters at eye level, undermining the sense of size, this sequence presents a good combination of camera angles, from the human perspective looking up and from the monster perspective looking down, including some effective composite shots that integrate humans with monsters in the same frame. For a brief moment, you almost remember what it was like to be frightened at the prospect of being crushed by something so huge that it would barely feel you under its toes.
In the end, DESTROY ALL MONSTERS is too slim in its storyline, too thin in its characterizations, to be considered a truly great film. It is not as impressive as the original GODZILLA, and it is not as hip as MONSTER ZERO. But for the ten-year-old living inside us all, it is entertainment of the most awesome sort.
TRIVIA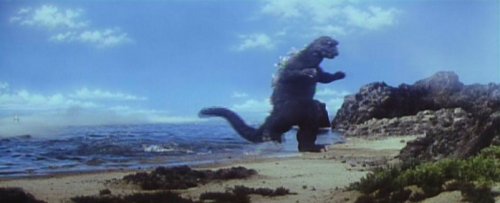 DESTROY ALL MONSTERS introduced the concept of Monster Island (here called "Monster Land" in the English dubbing), an island where all of Earth's monsters had been gathered and kept locked up for study. Future Godzilla films would use Monster Island as a lazy way to re-introduce the monster without having to worry too much about continuity.
DESTROY ALL MONSTERS features the return appearance of Anguirus, the very first monster to fight Godzilla, way back in 1955's GODZILLA RAIDS AGAIN (a.k.a. GIGANTIS THE FIRE MONSTER). Basically an oversized dinosaur (an ankylosaurus), Anguirus would go on to appear in GODZILLA VS. GIGAN and GODZILLA VS. MECHAGODZILLA in the 1970s. On the basis of these few appearances, Anguirus inexplciably became a favorite among some fans, who eagerly awaited his return when the Godzilla franchise was revived in the 1990s. Anguirus finally reappeared in the "last" Godzilla film, GODZILLA: FINAL WARS, a virtual remake of DESTROY ALL MONSTERS.
Directors Contrad Vernon and Rob Letterman cited DESTROY ALL MONSTERS as an influence on their 2009 animated film MONSTERS VS. ALIENS: "We watched it three or four times," says Vernon, who was inspired by the plot involving mangy monsters freed from an island prison by galactic invaders. "We even have our villain, Gallaxhar, use the command, 'Destroy all monsters.'"
INDEPENDENCE DAY (1996) also bears structural similarities to DESTROY ALL MONSTERS. The filmmaking team of Roland Emmerich and Dean Devlin would go on to do the 1998 American version of GODZILLA.
DUBBING DIFFERENCES
Unlike most of the Toho giant monster movies, DESTROY ALL MONSTERS reached U.S. shores relatively unchanged, except for being dubbed into English. Ironically, Toho had created an English dub of the film to increase its export value, but the U.S. distributor, American International Pictures, commissioned a new dialogue track, featuring the likes of Hal Linden (television's BARNEY MILLER).
The AIP dub rewrites some of the lines and provides better voice acting. This version was seen in theatres and on television in the U.S., but it has not been available since the defunct AIP's distribution rights lapsed. Currently available prints are of the Toho "International" version.


The dub on the International version of DESTROY ALL MONSTERS features a literal English translation of the Japanese dialogue, which does not always sound natural; the problem is aggravated by the weak vocal performances.
In at least one case, the International version's audio track is superior. In the AIP dub, there is a lame line when a reporter watching the climactic battle near Mt. Fuji holds up his microphone and says, "I'll turn up the sound so you can hear the monsters dueling to the death." The Toho dub offers instead a memorable moment of high-camp comedy: "It's horrible, ladies and gentlemen – listen to the monsters and their cries of sudden death!" This perhaps intentional echo of the "Oh, the humanity!" account of the Hindenburg disaster is capable of bringing the house down with laughter, should you ever be lucky enough to see DESTORY ALL MONSTERS in a theatre crowded with kaiju fans.
During the early montage of monsters attacking different cities around the globe, the International version offers newscaster voices overs doing very bad accents (Russian, French, etc) – an effect carried over to some extent in the AIP dub. (The original Japanese audio track has the voice-overs speaking in their native languages.)
The above-mentioned montage contains one of the more memorable film flubs in the Godzilla series. France's Arc de Triomphe was supposed to be toppled by the burrowing monster Baragon (introduced in FRANKENSTEIN CONQUERS THE WORLD), but problems with the suit necessitated that Gorosaurus get the job instead. The dialogue was never changed, so the monster is erroneously identified as Baragon – a mistake carried over in the written text of the U.S. theatrical trailer.
DESTROY ALL MONSTERS (Kaiju Soshingeki ["Monster Invasion"], 1968). Directed by Ishiro Honda. Written by Ishiro Honda, Takeshi Kimura. Cast: Akira Kubo, Jun Tazaki, Yukiko Kobayashi, Yoshio Tsuchiya, Kyoko ai, Andrew Hughes, Chotaro Togin, Yoshifumi Tajima, Kenji Sahara, Hisaya Ito, Yoshio Katsuda.
Portions of this review originally appeared in "Godzilla Invades L.A." in the December 1996 issue of Cinefantastique (Volume 28, Issue 6).