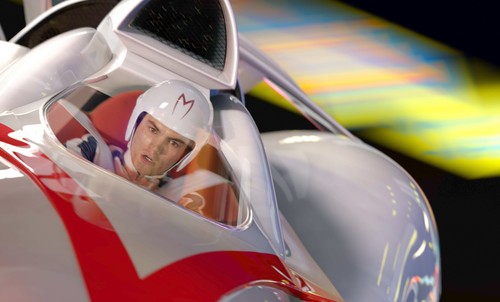 Variety columnist Anne Thompson offers ten reasons for the financial failings of SPEED RACER. Click below the fold to see what they were.
"Speed" was simply too costly to score a hit with its target audience.
Producer Joel Silver is on a three-year losing streak.
Franchise fever.
Brand confusion.
Marketing Misdirection.
Pixel fatigue.
The pic's soda-pop look might have worked better with older smart-house audiences.
The running time was simply too long for a family film.
The movie didn't work anywhere in the world.
The movie was ahead of its time.
#10 is clearly a sop to producer Silver and to directors Larry and Andy Wachowski, an attempt to balance the scorecard in the hope of not losing access for interviews on future projects. Does anyone think there ever will be a "time" for overblown movies with stories too thin to hold adult attention and running times too long to keep children in their seats?
Anyway, I think the whole approach of figuring out what went wrong with SPEED RACER is off target. We should be asking, "What went right?" Or put another way, "Why should anyone want to spend ten bucks a ticket to see some old anime TV series redone with live-action and CGI for the big screen?" That's the question Warner Brothers should have asked before giving $120-million to the Silver-Wachowski team.