Cinefantastique nominates 1st Annual Wonder Awards

Looking for an alternative to the Academy Awards? The Academy of Motion Picture Arts and Science, who reveal their annual Oscar nominations this morning, are notorious for overlooking fantasy films, horror movies, and science fiction cinema. Therefore, Cinefantastique Online has decided to presents its nominations for the first annual Wonder Awards. The name, of course, is taken from "Sense of Wonder," the phrase that best encapsulates the joy and excitement inspired by the best of what the genre has to offer.
To come up with our nominations, we solicited input from our writers and colleagues, including webmasters at several of the more discriminating websites devoted to the genres.Typically, the results represents a consensus, wherein some of the quirkier choices are left out, but we have tried to address that issue with the Ulmer Award (see below). The consensus emerged most clearly in terms of the Top 5 nominees for Best Picture (THE CURIOUS CASE OF BENJAMIN BUTTON, THE DARK KNIGHT, IRON MAN, LET THE RIGHT ONE IN, WALL-E), all of which were also nominated in the categories for Best Direction and Best Screenplay.
We also ran into the familiar problem of categorization, which may have prevented a few titles from being nominated in certain areas (e.g., does an animated film qualify for Best Special Effects or Best Cinematography?). And there were the usual disagreements about which performances qualified as Lead Roles versus Supporting Roles; we solved this one by awarding each nomination in the category where it received the most support.
The two heavy favorites were BENJAMIN BUTTON and DARK KNIGHT, both of which scored thirteen nominations – quite an achievement when each was eligible in thirteen categories.The level of support for both films seems very strong, and the final voting for the winners could go either way, depending on whether voters fully embrace the metaphorical BUTTON as a fantasy film.
For the record, neither BENJAMIN BUTTON nor DARK KNIGHT was nominated in every single category for which it was eligible; each reached lucky number 13 by scoring a multiple nomination in a supporting acting category. Both Tilda Swinton and Taraji Henson were nominated in the Supporting Actress category for BENJAMIN BUTTON, which was left out of the Best Music category. Both Heath Ledger and Morgan Freeman were nominated in the Supporting Actor category for DARK KNIGHT, which was omitted from the Lead Actress category.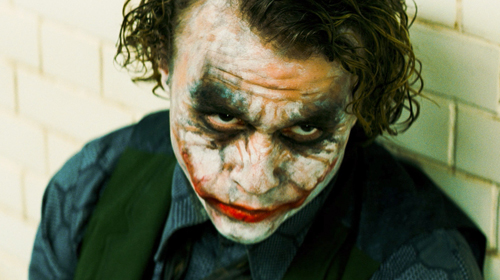 Heath Ledger, as expected, is the heavy favorite to win for Best Supporting Actor. In fact, several voters felt his peformance so dominated DARK KNIGHT that they nominated him in the Lead Actor category; the majority of support, however, placed the nomination in the Supporting category.
Also popular with voters was IRON MAN with ten nominations. This one seems an odds-on favorite for the Lead Actor category, thanks to Robert Downey Jr's winning performance as Tony Stark.
WALL-E, the wonderful computer-generated science fiction film from Pixar, earned four nominations, including one for Best Music. Support for this film is also high, but being animated, it was difficult if not impossible for the film to earn recognition in categories that favor live-action films (acting, cinematography, production design), even though some maverick voters listed it in those categories.
It was not all Hollywood blockbusters, however. LET THE RIGHT ONE IN, the wonderful Swedish horror film, was recognized in six categories, including Lead Actress, Music, and Photography. This is another well-loved film; although not as widely seen as the other Best Picture nominees, voters embraced it just as strongly, and it has a solid shot and winning in several categories.


Also receiving multiple nominations were HELLBOY II: THE GOLDEN ARMY, INDIANA JONES AND THE KINGDOM OF THE CRYSTAL SKULL, QUANTUM OF SOLACE, and SPEED RACER.
HELLBOY II earned five nominations, for Lead Actor (Ron Perlman), makeup, special effects, production design, and cinematography.
SPEED RACER was nominated in three technical categories: Editing, Production Design, and Special Effects.
INDIANA JONES earned two nominations for Supporting Actress (Karen Allen) and Music (John Williams).
QUANTUM OF SOLACE earned two acting nominations, Daniel Craig for Lead Actor and Judi Dench for Supporting Actress.
Some may quibble with slotting Karen Allen (a sentimental favorite for her returning role as Marion Crane in the fourth INDIANA JONES movie) into the Supporting Actress category, but she was crowded out of the Lead Actress arena by two performances in little seen films that scored only a single nomination: Julianne Moore in BLINDNESS and Naomi Watts in FUNNY GAMES.



Other films to score a single nomination were BOLT (John Powell for Music); THE INCREDIBLE HULK (Tim Roth for Supporting Actor); KUNG FU PANDA (Clare Knight [a.k.a. Clare De Chenu] for Editing), and MOTHER OF TEARS (for makeup).
Finally, Cinefantastique nominated five films for the Ulmer Award, which requires a bit of explanation. Decades ago, Myron Meisel, film critic for the now-defunct L.A. Reader, would select a film each year for the Edgar G. Ulmer Award. The name was taken from the late film director: though he worked on some major studio films (like 1934's THE BLACK CAT, starring Boris Karloff and Bela Lugosi), Ulmer seemed to prefer toiling away in low-budget independent cinema. Ulmer's most famous film is probably the moody film noir DETOUR, a movie that has earned critical accolades even though it seems to have been made with virtually no resources at all.
The Ulmer Award is bestowed in honor of films that maintain this tradition, achieving much with very little. The definition is also elastic enough to encompass films that are ignored by mainstream critics and awards societies for whatever reason; consequently, even adequately funded movies may qualify if their release was so limited that no one saw them, limiting their chances of being nominated in other categories. In effect, this is our equivalent of the Oscar Academy's Foreign Language and Animation categories, which were invented to open up slots for films that seldom if ever get into the Best Picture Category.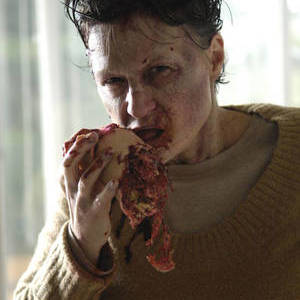 With all of that in mind, here are five films that received low-profile platform theatrical releases in 2008, often of the contractual-obligation variety. All of them earned support and admiration from those lucky enough to see them, but none were seen by enough voters to have a chance in the major categories.
DIARY OF THE DEAD
MOTHER OF TEARS
REPO, THE GENETIC OPERA
ROGUE
TEETH